Report on Probability
28 Jun - 30 Aug 2009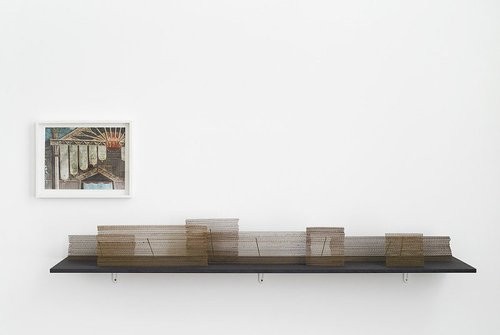 Report on Probability, Kunsthalle Basel, Installation view (detail)
Runo Lagomarsino, Las Casas is Not a Home, 2009
Installation with collages, objects, drawings and prints
Photo: Serge Hasenböhler
Courtesy the artist & ELASTIC, Malmö
© Kunsthalle Basel, 2009
REPORT ON PROBABILITY

28 June–30 August 2009

Sven Augustijnen, Andreas Bunte, Patricia Esquivias, Runo Lagomarsino, Lars Laumann, Anna Molska, Anna Niesterowicz & Łukasz Gutt, Corin Sworn

Opening: Saturday, 27.06.2009, 7pm

Curated by Adam Szymczyk.

"Report on Probability A" is the title of a 1968 novel by Brian Aldiss, which employs the nouveau roman technique of narrative told from multiple viewpoints, in order to present an ambiguous story that revolves around the banal, almost trivial activities of a handful of protagonists. The additional appearance of extraterrestrials watching from "out there" acts as another means of mediating the plot, in which the allegorical scene painted by the Pre-Raphaelite William Holman Hunt, The Hireling Shepherd, is stubbornly present as a pivotal point, or perhaps just a vanishing centre of the deadpan descriptive prose. The novel's epigram from Goethe, "Do not, I beg you, look for anything beyond phenomena. They are themselves their own lesson," could equally well have come from John Clare or Robert Walser, and seems to tell us that instead of investigating the meaning of the story, we should learn to recognise nothing more than the materiality of events, the ever-changing skin of facts.
In science, new ideas and inventions are designed for future use only, as technological development needs time to catch up with revolutionary abstract concepts. The most improbable visions, often termed futuristic, are to be found in sci-fi books: the time machine, wireless communication, travel to the moon, journeys to the centre of the earth, teleportation, and close encounters of the third kind. In sci-fi, the future exists as a project that may or may not be realised. In history, one has to seek directions in what at first appears to be a medley of random incidents recalled from the past. And what about hi-fi, history as fiction?
Report on Probability is a narrative hybrid that seeks to establish history on a foundation of unfulfilled possibilities, and turn it to our advantage, make it "useful". This mode of telling history favours "as if..." over "there was...". Neutral and rigid, reporting is a method used to give facts a definitive structure and bring them out of oblivion in strict chronological order. When applied to "probability" and not to commonly accepted "facts", report becomes a speculative exercise in thinking the-future-in-the-past, mobilising the intuitive and associative mind in order to teach us something that would have otherwise remained suppressed or forgotten.
In contemporary art, at least since the beginning of this century, the feeble echo of probability resounds from within history, its presence dressed up as fable, parable or fabricated evidence, assuming the form of "fictionary", a record of things and times that were not, often donning ethically ambivalent garbs of repetition, stylisation, pastiche and usurpation. This roundabout historical route, this island of possibilities from an earlier decade that heralded change but endlessly relegated it to the future so that it was never accomplished, seems to have replaced any solid utopia. Caught between political disappointment in the here and now and a disenchanted attitude towards promises of the future, artists have sensed a new locus of possibility in alternative readings of history – including the editing of existing cultural material – the lesson motivated by and embedded in the present moment. This meditation on lost history is, paradoxically, a pioneering endeavour, as it does not have a predefined goal but strives to animate the so far ossified, petrified, canonised and effectively neutralised versions of history. It also seems that we can glimpse in these attempts a way of abolishing the contradiction between the need to find forms of critical and political involvement on the part of artists in society at large and the imperative of aesthetic autonomy. The close and critical reading of the past can, perhaps, offer a way out of the impasse.
History can be used to the advantage of many, if we venture away from the main text to study its obscure nooks and crannies, blank spots, and margins heavy with afterthought. Has the avant-garde of today changed vector and managed to replace orientation towards the future with free movement in all directions?
The exhibition Report on Probability brings together a group of works that use a variety of approaches to comment on some passages and moments in the history of modernity (while not necessarily being involved with the styles and aesthetics of Modernism) that seem to have an afterlife in the present.
Anna Niesterowicz's & Łukasz Gutt's film The Minstrel Show (2009) engages with a form in American entertainment that appeared in the 1830s and included white people performing burlesque or music acts in blackface. Although it lost its original popularity towards the end of the 19th century, the minstrels played a role in shaping stereotypes about blacks well into the 20th century, as the white, blackfaced performers continued to appear on TV shows and other forms of popular entertainment. Niesterowicz & Gutt staged a blackfaced big band performance of Frank Sinatra's song at the S1 Studio of the Polish Radio, where many outstanding recordings of classical and experimental music have taken place since the studio was established in 1991.
Sven Augustijnen's film Le Guide du Parc (2001) takes viewers for a 40-minute walk in the Parc Royal in Brussels. Realised as documentation of a staged guided tour, the work features a guide telling the alternative story of the park. Following his steps, we visit the alleys and discover hideouts that turn out to be gay cruising places. The meanings revealed by the guide's narration undermine the standard reading of the landscape architecture as a fully controlled, aesthetically pleasing environment. As night falls slowly over the park, moments of silence interrupt the guide's story and what at first seemed possible to reveal through accurate description, falls back into obscurity. Augustijnen's L'Histoire Belge (2007), a series of 10 offset prints looks at selected episodes from the history of Belgium, mainly its colonial expansion, through images and corresponding texts that seemingly refer to historical facts. Although the material is presented in a manner typical of archival documents or historical "albums" and thus acquires a quasi-objective quality, the truth cannot be easily verified and a disjunction opens up between image and text, allowing other meanings to enter.
The Future Was When? (2009) is a new film by Patricia Esquivias, based on the parallels between her and Susan Brown, an artist who restored the mosaics in the New York subway, first illegally and much later legally. In Esquivias' typically informal voiceover, the story of the restoration of artworks that belong to public infrastructure becomes a parable – a pretext for retelling the history of the cities of New York and Madrid through documentary images and supplementary archival material. A study in contemporary urban archaeology, the film overlaps the minute details of the two personal stories with a larger historical panorama. The linear time of (art) history lapses into a discontinuous track of individual memories, narrative sidelines and anecdotal information, from which a different picture of the cities appear, "a future that was", literally hidden underground. Some of Brown's mosaic reproductions, done from photographs of tile repairs in the Madrid subway documented by Esquivias, are presented alongside the film.
Runo Lagomarsino's installation Las Casas Is Not a Home (2009) includes photographs of the wallpaper preserved in a village restaurant building in Ötlingen near Basel, the "Inca panorama", which is based on a bestselling book by the French Enlightenment writer, J.-F. Marmontel, "The Incas, or: the Destruction of the Empire of Peru" (1777). The wallpaper was produced around 1820 in Paris by Dufour & Leroy, the leading wallpaper manufacturer of the time. One of the characters is Bartolomé de las Casas (1486–1566), the Spanish Dominican priest who in 1502 was brought to the island of Hispaniola and subsequently witnessed atrocities by the Spanish colonists against the native people. In 1550 de las Casas entered into a debate (known as the "Valladolid debate") with philosopher and theologian Juan Ginés de Sepúlveda, in which he forcefully opposed the latter's view that the American Indians were "natural slaves". Lagomarsino's installation includes objects and documents that relate to "Las Casas" in its double meaning – the protagonist's family name and the Spanish word for "home".
The video installation After School Special (2009) and a suite of drawings by Corin Sworn focuses on youth rebellion, a popular motif in 20th-century film and literary fiction. A contemporary rendering of the classical topos of the world "à rebours", young people taking over, was portrayed in William Golding's book "Lord of the Flies" (1954, with a subsequent film adaptation by Peter Brook in 1963), and Lindsay Anderson's film "If...." of 1968, as well as in Jonathan Kaplan's lesser-known film "Over the Edge" from 1979, set in a planned community called New Granada, located in a desert, where the kids, typically neglected and bored, predictably "take over". Corin Sworn's work is an edit that transforms the original movie into a compact, semi-abstract and delirious study of a clichéd genre. At the same time, Sworn's work awakens hopes for a better, self-governed micro-society, hopes that have been buried and neutralised in mainstream culture.
Die letzten Tage der Gegenwart (2006) by Andreas Bunte is a film installation consisting of two 16 mm projections in a rudimentary architectural setting, and a group of collages. One film shows the interior of an apartment that seems to have been abandoned by its inhabitants – overfilled ashtrays, stacks of papers, books and disorder of a community apartment – or perhaps the headquarters of a terrorist cell; while the other film focuses on public areas and buildings – including a church and university. The work juxtaposes dense, private space serving a specific purpose and marked by human presence, with the opacity of the public sphere embodied in the architecture of authority. The transient moment is extended and suspended in the cinematic time – the last days of what was once the present transcend their time and take definitive shape as an allegory of their passing.
The conspiracy theory has been often condemned as pseudo-science, but it can also be read as one of the rhetorical means to counter official historical narratives. Whether or not the death of Princess Diana could have been foretold by The Smiths and their charismatic lead singer, Morrissey, is yet to be established. Based on found footage and information circulating on the Internet and in the community of The Smiths' fans around the globe, Lars Laumann's Morrissey Foretelling the Death of Diana (2006) locates the prefiguration of Diana's fatal accident in 1997 in The Smiths album "The Queen is Dead" of 1986. Laumann's film gives form to an urban legend. The work employs the oral tradition of epic storytelling and heroic song for a contemporary subject. The film's labyrinthine structure mimics the tangled emotions of the fan's confession and the erratic line of an obsessive research into a personal biography that became part of the public domain. For the first time, the film is showed with three channel sound in English, French and German.
The Weavers (2009) by Anna Molska is a film based on a five-act social drama with the same title by a German author Gerhart Hauptmann, dating from 1892. The drama deals with the 1844 rebellion of Silesian weavers against the poverty of their lives, the harsh working conditions and exploitation they suffered in textile factories. "We'll stand it no longer!" one of the female protagonists' call for resistance, can serve as the play's motto. Molska worked with non-professional actors recruited from the coalminers who work in Silesia (today in Poland) and who often become jobless as mines close down due to the exhaustion of natural resources and economic "readjustment". The three miners gather by the fireplace on a slag heap and converse using words of the 19th–century naturalistic drama. The song in the background, also taken from Hauptmann's text, binds their fate with that of their 19th-century predecessors, the weavers, while the film continues with scenes shot on location in the coalmine.

A catalogue will be published at the end of the exhibition.

The exhibition was made possible by private sponsors who wished to remain anonymous.

The exhibition is generously supported by:

OCA – Office for Contemporary Art Norway
SEACEX – Sociedad Estatal para la Acción Cultural Exterior

Short Artist Biographies

Sven Augustijnen (b.1970 in Mechelen, Belgium) lives and works in Brussels. He studied Fine Arts at the Sint-Lukas Hogeschool in Brussels and at the Jan Van Eyck Academie, Maastricht. As a holder of a daad grant, he was in New York in 2000. 2005 he had amongst others the solo exhibition Une femme entreprenante in the Argos - Centre for Art & Media, Brussels. Group exhibitions (selection): 2009 Vérité Exposée, Ernst Museum, Budapest; Stutter, Tate Modern, London / 2008 WEDER ENTWEDER NOCH ODER, Württembergischer Kunstverein, Stuttgart.

Andreas Bunte (b. 1970 in Mettmann, Germany) lives and works in Berlin. He studied at the Gesamthochschule Kassel and at the Kunstakademie in Düsseldorf. Solo exhibitions (selection): 2009 Bielefelder Kunstverein / 2006 Die letzten Tage der Gegenwart, Galerie Ben Kaufmann, Berlin. Group exhibitions (selection): 2009 A Letter Concerning Enthusiasm, Kunstverein Bozen, Italy / 2008 Wessen Geschichte, Kunstverein Hamburg.

Patricia Esquivias (b. 1979 in Caracas, Venezuela) lives and works between Guadalajara, New York, and Madrid. She got her BA at Central Staint Martins College of Art and Design, London and her MFA at California College of Arts, San Francisco. Solo exhibitions (selection): Patricia Esquivias: Reads like the paper, Midway Contemporary Art, Minneapolis, MN / 2008 White Columns, New York; Murray Guy, New York. Group exhibitions (selection): Pensée Sauvage – über die Freiheit des Menschen, Kunstverein Frankfurt / 2008 5th berlin bienniale for contemporary art, curated by Adam Szymczyk and Elena Filipovic.

Runo Lagomarsino (b. 1977 in Lund, Sweden) lives and works in Malmö. He studied at Valand Academy of Fine Arts, Göteburg and graduated at Malmö Art Academy in 2003. Solo exhibitions (selection): 2009 Las Casas Is Not A Home, Mummery+Schnelle, London / 2007 Those who control the past command the future - those who command the future conquer the past, Overgarden, Copenhagen / 2006 This is no time for saluting flags, Elastic, Malmö. Group exhibitions (selection): 2009 2da Trienal Poli / Gráfica de San Juan: América Latina y el Caribe San Juan; THIS IS NOT AMERICA, El Descanso del Guerrero, San Juan.

Lars Laumann (b. 1975 in Brønnøysund, Norway) lives and works in Oslo. He studied at the North Norwegian Art and Film School, Kabelvåg and at the Norwegian State Academy, Oslo. Solo exhibitions (selection): 2009 Fort Worth Contemporary Arts, Texas / 2007 Morrissey Foretelling the Death of Diana, White Columns, New York. Group exhibitions (selection): 2008 Monumeno Mori, Astrup Fearnley Museet for Moderne Kunst, Oslo; 5th berlin bienniale for contemporary art, curated by Adam Szymczyk and Elena Filipovic. Currently he has a solo exhibition in the Gallery Maureen Palay, London.

Anna Molska (b. 1983 in Prudnik, Poland) lives and works in Warsaw. She studied at the Academy of Fine Arts in Warsaw and at the Staatlichen Akademie der Bildenden Künste in Stuttgart. Solo exhibitions (selection): 2009 The Weavers, Foksal Gallery Foundation, Warsaw / 2008 Galeria Arsenal, Białystok, Poland. Group exhibitions (selection): 2009 Take a Look at Me Now, Sainsbury Centre for Visual Arts, Norwich; The Generational: Younger Than Jesus, New Museum, New York.

Anna Niesterowicz (b. 1974 in Warsaw, Poland) lives and works in Warsaw. She got her MA at the Academy of Fine Art in Warsaw in the class of Professor Grzegorz Kowalski. In 2003 she stayed in Basel as a guest artist in the frame of iaab (international exchange and studio program basel). Solo exhibitions (selection): 2008 Art in Cinema, Fundacja No Local, Kino pod Baranami, Krakau / 2007 Samowzór/Autoform, Galerie Jesco von Puttkamer, Berlin / 2006 Hanba/Shame, Foksal Gallery Foundation, Warsaw. Group exhibitions (selection): 2009 1989 - 2009. Twenty years after, MOYA, Wien / 2008 Bucharest Biennale, Rumania. Anna Niesterowicz produced in collaboratin with Łukasz Gutt several films amongst others The Minstrel Show, 2009, that is on display in Kunsthalle Basel.

Łukasz Gutt (b. 1980 in Warsaw, Poland) lives and works in Warsaw. He studied film at the Cameraimage Film School in Torun, Poland as well as at the Faculty of Radio and Television at the Silesian University in Katowice, Poland. He is a producer of different projects and documentaries such as Scrap Odyssey, 2009, and with Anna Niesterowicz he made the films Hair, 2008 and Hanba/Shame, 2006.

Corin Sworn (b. 1977 in London, England) grew up in Vancouver, Canada. She currently lives and works in Glasgow. She studied at Central St. Martins College, London, at the Emily Carr Institute of Arts and Design, Vancouver, and she will complete her Master at Glasgow School of Art in 2010. Solo exhibitions (selection): 2008 The Wild Ones Are So Tame Now, ZieherSmith Gallery, New York; Back in 5: Accessing the Backstory, Blanket Gallery, Vancouver / 2006 Adventure Playground Or Gallery, Vancouver. Group exhibitions (selection): 2009 EASTInternational, White Columns, New York; Love Me Tender, Kunstverein Wolfsburg.