Regionale 16: Jungs, hier kommt der Masterplan
28 Nov 2015 - 03 Jan 2016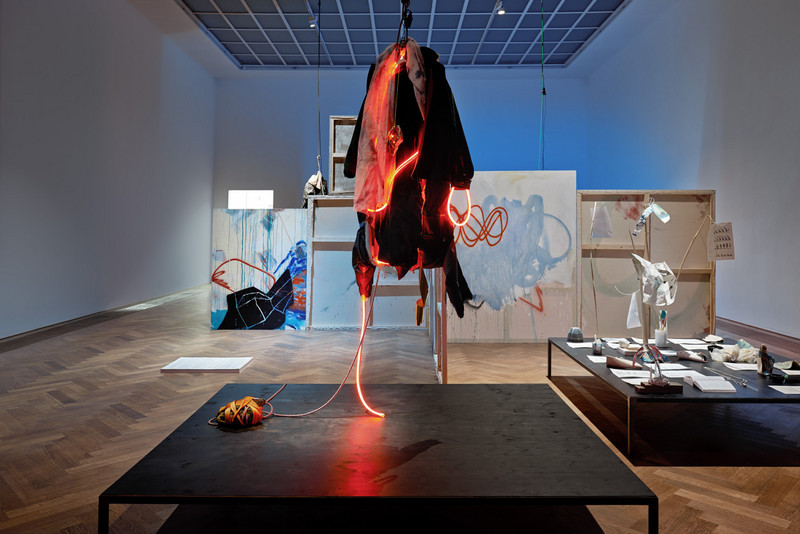 Louise Guerra
installation view, Chapter 15 Sci-Fi Opera: Sleep Tracking App Loop Station Island, 2015, Kunsthalle Basel, 2015, photo: Philipp Hänger
REGIONALE 16: JUNGS, HIER KOMMT DER MASTERPLAN
Sarah Bernauer, Kristina Buch, Lotte Meret Effinger, Rodrigo Hernández, Louise Guerra, Sophie Jung, Philipp Schwalb, Johannes Willi
28 November 2015 – 3 January 2016

Our contemporary lives are driven by the overproduction of image-objects and proliferation of enabling mobile devices. Digital screens have become the iconic black squares of our time, not only reflecting back on us but, in fact, shaping our daily behavior, emotions, and social interactions. Jungs, hier kommt der Masterplan [Boys, Here Comes the Masterplan] eschews telling a story, or illustrating a theme; instead, it traces an attitude and a modus operandi, bringing together artists and collectives in the tri-national region. With them, we look into the attitudes of a younger generation in search of the black square of the now, and who, in the process, articulate their own tongue-in-cheek master plan to deal with the present. Through their diverse artistic practices, the selected artists define themselves in relation to contemporary image culture and its expanded circulation of information in ways that reveal vibrancy, humor, and lightness, but not without a dark undercurrent and wry critical reflection.

Performance of Sophie Jung took place at Hallenbad Rialto.

...And Action: Young people make a short film about the annual Regionale exhibition at Kunsthalle Basel. Premiere December 15 at Stadtkino Basel.