Nasreen Mohamedi
07 Feb - 05 Apr 2010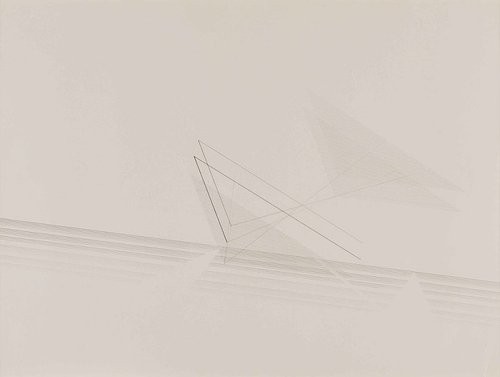 © Nasreen Mohamedi
Untitled, undated.
Pen and pencil on paper
49 x 65 cm.
Courtesy the Glenbarra Art Museum collection, Japan
NASREEN MOHAMEDI
Notes. Reflections on Indian Modernism

7 February – 5 April 2010

Kunsthalle Basel is proud to present Nasreen Mohamedi. Notes - Reflections on Indian Modernism. This exhibition is one of the first international solo presentations of Nasreen Mohamedi (1937–1990), an artist who occupies a unique position in the history of art practice in India as well as in the history of Modernist abstraction. She is regarded as one of the most important Indian artists of her generation and her paintings, drawings and photographs produced from the early 1960s to the late 1980s, constitute a key body of work within the modernist canon.

Little known outside of India, Mohamedi's work has in recent years attracted increasing attention and critical acclaim. This exhibition brings together for the first time a comprehensive collection of works by Mohamedi including a series of major drawings, photographs and studies, as well as an extensive and previously unseen archival display.

Born in Karachi in 1937, Nasreen Mohamedi moved with her family to Mumbai (then Bombay) at the age of seven. In 1954, she travelled abroad to study – in London at Saint Martin's School of Art (1954–57) and in Paris on a scholarship from the French government. After she returned to India she lived in Bombay, Delhi and finally settled in Baroda, where she became a teacher in the prestigious Faculty of Fine Arts, MS University in 1972. In Baroda, Mohamedi produced what has come to be seen as her classic work: small-scale, abstract geometric drawings, painstakingly composed using pencil and pen – working with the grid and deviating from it with the use of diagonal lines. Virtually alone amongst her peers in India who generally favoured a figurative narrative style, her lineage can be traced back to an earlier generation of Indian artists engaged with abstraction such as V.S. Gaitonde. Other parallels for her practice can be drawn to Agnes Martin's works on paper, or to Kazimir Malevich and the Suprematists' invocation of an utopian abstraction. Despite Mohamedi's cosmopolitanism, her work also reflects her identity as a female Indian artist working during the second half of the twentieth century as the subcontinent, its landscapes, urban centres and Islamic heritage are often intimated in her work, particularly her photographs.

The exhibition at Kunsthalle Basel includes Mohamedi's collages, studies, drawings and photographs from the 1960s to the late 1980s. Mohamedi rarely signed or dated her work, but they fall roughly into three different periods. Her early works – water colours and ink on paper, oil on canvas, collage and lithography - were lyrical and semi-abstract. In the 1970s she moved closer to abstraction, and by the end of the decade she was producing serial works based on the grid on square sheets of paper- these became a hallmark of her practice. During the final phase of her work in the 1980s, Mohamedi abandoned the grid and began to compose geometric shapes, including combinations of diagonal lines, triangles and spheres, which were suspended within an empty ground. Mohamedi consistently produced photographs as a visual record of the places she visited. Although she never regarded them as works in their own right, today they constitute a key part of her oeuvre.

The exhibition encompasses a range of extensive archival material - biographical data such as snap shots, invitation cards and contemporary reviews, and ephemera collected from her studio: calendars, letters from the Arabic alphabet, magazine cuttings with notations, sketches and photographic experiments. While the biographical information paints a portrait of the artist and her professional life, the ephemera collected from her studio reveal Mohamedi's working process and the way she developed a language that is both visual and conceptual.

Curated by Suman Gopinath and Grant Watson, Nasreen Mohamedi: Notes is initiated by the Office for Contemporary Art Norway. It is organized by the Office for Contemporary Art Norway in collaboration with Kunsthalle Basel. Suman Gopinath is a curator and the founder and director of CoLab Art & Architecture, Bangalore, India. Grant Watson is a curator at the Museum van Hedendaagse Kunst Antwerpen (MuHKA), Antwerp, Belgium. Gopinath and Watson have been collaborating on exhibitions of modern and contemporary Indian art since 1999.

The exhibition architecture has been designed by Piotr Brzoza, Basel.