Minerva Cuevas
23 Sep - 11 Nov 2007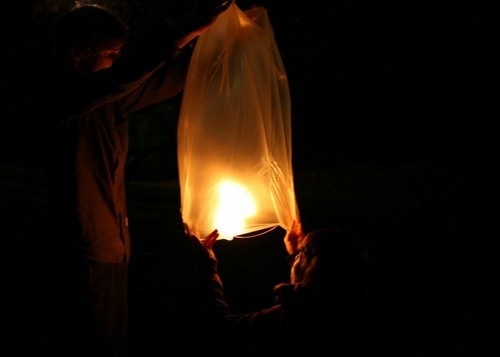 © Minerva Cuevas
"Sky Lanterns for Stanislaw Lem", 2006
Public action, Foksal Gallery Foundation, Warsaw, UFO Balloon
Courtesy the artist
MINERVA CUEVAS
"Phenomena"

23 September–11 November 2007

In her show Phenomena, Minerva Cuevas (born in Mexico City, 1975) has addressed appearances: how we perceive and understand things. The title of the show refers to Immanuel Kant's distinction between phenomena ("beings of sense", appearances capable of being observed by one of the five human senses and understood by speculative reason) and noumena ("things in themselves", transcendental objects), introduced in his Critique of Pure Reason (1781). Phenomena are, above all, raw data of striking and diverse qualities, and Minerva Cuevas brings some of these data forth in her installation, using customized antique optical devices, such as a projecting microscope and slide projectors, combined with modern fiber glass light projectors. The projected images belong to the standard repertory of popular science of the 19th and early 20th century: an ape wearing a jacket hangs on a tree, a collection of unicellular algae unravels. A series of four photographs depicts surfaces of meteorites from natural history museums in Mexico. They are juxtaposed with found film footage, presented on monitors, recording experiments in behavioral psychology meant to demonstrate the learning and adaptive skills of infants. In her installation The Battle of Calliope (2004) Minerva Cuevas used the recording of the Vodun drummers from Ghana, who performed the curse on the current U.S. political administration. The scientific specimens may become indistinguishable from curiosities, yet on the other hand, the obsolete techniques may bring surprisingly productive results. By including the outmoded techniques of observation as parts of her exhibition, the artist enables us to see how the ways of seeing have been constituted as social phenomena.
Minerva Cuevas' exhibition received generous support from: Annemarie Burckhardt and FUNDACION/COLECCION JUMEX
In conjunction with Minerva Cuevas' exhibition a catalogue will be published in co-operation with the Van Abbemuseum, Eindhoven in early 2008. In January 2008 Minerva Cuevas will have an individual exhibition at the Van Abbemuseum.
Minerva Cuevas (born 1975, México City, México)
Solo exhibitions (selection): 2007 Estuaire 2007, Le Grand café, Centre d'art contemporain, Saint-Nazaire / 2006 The Economy of the Imaginary. Pirates and heroes, Luckman Fine Arts Complex. Los Angeles / 2004 Schwarzfahrer Are My Heroes, DAAD, Berlin / 2002 Dodgem, kurimanzutto, México City.
Group exhibitions (selection): 2007 Lyon Biennial, France; Tres Fronteiras. Bienal do Mercosul, Porto Alegre, Brazil / 2006 The exotic journey ends, Foksal Gallery Foundation, Warsaw; Thematic Project Series, Shedhalle, Zürich; 27th Bienal De São Paulo Brazil, São Paulo / 2005 Populism, Contemporary Art Centre, Vilnius, Stedelijk Museum, Amsterdam, Frankfurter Kunstverein; "Sharjah Biennial 7", United Arab Emirates, Fouad.