Michel Auder, Stories, Myths, Ironies, and Other Songs: Conceived, Directed, Edited, and Produced by M. Auder
09 Jun - 25 Aug 2013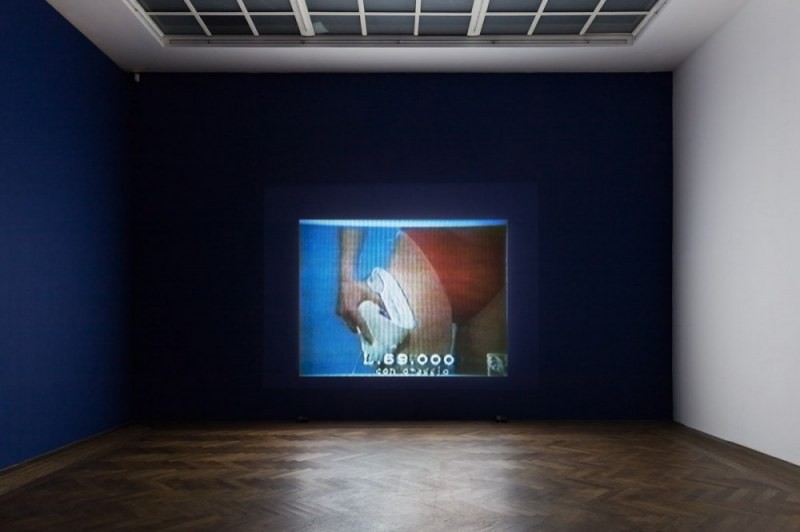 Michel Auder, Stories, Myths, Ironies, and Other Songs: Conceived, Directed, Edited, and Produced by M. Auder, Installation view
Film still, Roman Variations, 1991
Kunsthalle Basel 2013, Photo: Gunnar Meier
All works courtesy the artist and Office Baroque, Antwerpen/Antwerp; Galleria Fonti, Neapel/Naples; Newman Poiashvili Gallery, New York; Kayne Griffin Corcoran, Los Angeles.
MICHEL AUDER – STORIES, MYTHS, IRONIES, AND OTHER SONGS: CONCEIVED, DIRECTED, EDITED, AND PRODUCED BY M. AUDER
9 June–25 August 2013

Michel Auder's films and videos are recordings of his surroundings, his private life and the people around him. The French artist first began exploring video as an artistic medium in the late 1960s. Over the years he has shot thousands of hours of film, in the early days with Super 8, 16mm and 35mm cameras and subsequently embracing the latest video and digital media as they became available — right up to the camera in his mobile phone. Much of this footage was only edited by the artist many years after it was recorded, and turned into video works ranging from sequences lasting just few minutes to feature-length films.

Born in 1945 in Soissons, at the age of 17 Auder quit school and decided to go to the USA. He made his very first trip in 1962, taking a passage on a container ship, but re-turned to France already 12 months later. A few years later, after several spells in Paris and Rome, he settled permanently in New York, where he still lives and works today. The artist had already lived chiefly in hotels in Europe, and in New York, too, he moved into the then famous Chelsea Hotel, which was a meeting point for everyone on the art and theatre scene, and was well known for its extravagant parties and improvised happenings.

Auder began exploring and working with the medium of film from a very early stage. Influenced by French Nouvelle Vague cinema, with its zealous ambition to create a new form of film, implement new ideas and promote new filmmakers, Auder decided in his works against a conventional visual language and against established, narrative structures that he considered meaningless.

Auder's films are made in his immediate environment, collaging sequences he has shot himself and excerpts appropriated from TV. The works often include elaborate soundtracks composed by the artist himself, using found material and mixing classical and popular music with sound recorded on location. According to his friend Jonas Mekas, the Lithuanian-American director and pioneer of American avant-garde cinema, Auder really only chronicles what he wants to chronicle, and thereby juxtaposes things that occupy him, without educating, informing, banging any political drums or passing any specific social comment. He is someone who loves to watch, and to keep a record of what he has seen. It is impossible not to speak of an element of voyeurism in some of his pieces. But it is also important to clearly define where the boundary lies between voyeurism and unbiased observation of our surroundings, both things and people. Auder looks, and those viewing his films are compelled to look with him, fixing their gaze on the object of his interest and taking it as their own, becoming implicated. Between documenting reality and storytelling, Auder sets off to search for new narrative modes. Being fully aware of the normative order of existing genres and narrative strategies of film, Auder follows none of the sets of regulations that are firmly imposed on the visual field generated by the film industry, television and commerce — or at least, he does not follow them slavishly, but asserts his freedom to remain idiosyncratic as he battles through streams of images. His decisions with regard to the treatment of the visual material are taken within a framework discreetly coloured by his personal experience while making the film.

The exhibition Stories, Myths, Ironies, and Other Songs: Conceived, Directed, Edited, and Produced by M. Auder borrows its name from the title and credit line of Auder's film Stories, Myths, Ironies And Songs (1983), which is being screened in Gallery 2. The show comprises altogether 13 video works made between 1971 and 2013.

The show opens with Chronicles Morocco (1971/72). Recorded in Morocco, a cast of local people appear in Auder's film, including a young man, who we see running across a field dressed only in underpants, flaunting his body for the camera, collecting and eating bird's eggs, and then catching and eating a bird. It was the young man himself who asked Auder if he could be part of his film. Auder agreed and asked the boy what role he would like to play — the reply was "Sindbad the Sailor". The film follows a natural course of events, reminiscent of a travelogue. Auder's working method thereby comes clearly to the fore: seemingly relaxed and casual, he is nonetheless fully focused upon and involved with his subjects, and pays close attention to the minute details of the setting and structure of the story.

The act of looking is also, in a much more direct form, the central theme of the second work in the show, Endless Column (2011). For 18 minutes, in repetitive fashion, we watch Auder go through a carefully edited selection from a vast archive of pictures, stored on his computer, that he has taken with his mobile phone over the past few years. It is we who become the protagonists in the film, looking at Auder's daily life as if we were perusing the family album of a stranger and becoming witnesses to their personal experiences. The same impression of trespassing on someone's private sphere is true for Untitled (I Was Looking Back To See If You Were Looking Back At Me To See Me Looking Back At You) (2012). Auder devoted himself to this project for many months, filming the apartment building on the other side of the street by night. His camera pans along the dark facade and zooms into dimly lit interiors, looking for the signs of life, portraying the people inside the apartments, catching them in flagrante as they quarrel or make love, or impassively recording their most casual activities: drinking, sleeping or watching TV.

In Gallery 2, four videos are being screened on three monitors. In My Love (1977), screened on the first monitor, an anonymous actress, seated nude on a chair, flips through the pages of the book My Love made in 1971 by the French artist Niki de Saint Phalle. The book was a gift from Saint Phalle to Auder's daughter; he himself can be heard reading from the book, while Laurie Anderson's song "O, Superman (For Mas-senet)" (1981) plays in the background. Originally created for a show at The Kitchen, an exhibition space in New York, Stories, Myths, Ironies and Songs (1983) is a wide-ranging anthology of video material. The piece is organized like a book, with a succession of numbered chapters that relate to completely different stories. Ned Sublette, a New York musician, composed the soundtrack live while watching the film. Both title and film proclaim Auder's interest in exploring an entire range of narrative forms and genres, from myths to ironies, taking on the conservative politics in the US at the end of the Cold War era.

Polaroid Cocaine (1993), on the third monitor, is composed entirely of still photographs from books and magazines: taking us through each picture in turn, it presents visual data — and the act of its recording — as a case of addiction. The eponymous "Polaroid cocaine" becomes a metaphor for the consumption of images as addictive behaviour. The piece is accompanied by a haunting soundtrack, with lyrics written by French author Jean-Jacques Schuhl and sung by German actress and cabaret diva Ingrid Caven (the protagonist of Schuhl's novel Ingrid Caven, for which he was awarded the Goncourt Prize in 2000), whose existentially charged performances transcend the rules of the entertainment business. The music amplifies the central themes of the film: death, destruction and desire verging on obsession. Brooding Angels (1988), showing on the same monitor, is equally disturbing. Omnipresent violence, resistance and paranoia set the ominous tone of the piece, which is overlaid with a soundtrack that was composed by Auder himself, and which includes fragments of music performed by cellist David Soyer.

48 Hours in 8 minutes (1978) is a self-portrait of the artist filmed with a Super 8 camera, even if it does not quite add up to 48 hours. We accompany the artist for a day, the night and the following day, which entire time the protagonist appears to spend in bed.

Auder's titles can be partly associative combination of words, partly explicit statements about what the piece shows. Blind Sex (1983) is a case in point. From the window of an apartment, Auder watches what is going on in the street below: prostitutes walk up and down, until two men approach them, start talking to them, and at some point disappear into the entrance of a building. At a later point in time, in a sequence shot at a different location, from the window of the artist's Brooklyn studio, we see a blind woman crossing the street, helped by a man who at some point switches with another.

Roman Variations (1991), showing in Gallery 4, is an epic film made in Rome, a city that Auder has regularly visited and where one year he was offered a studio. It was during this residency that the material for the film was recorded. In the final cut, scenes from TV and real life are blended, reflecting the bland sameness encountered in any metropolis and the flamboyant uniqueness of Rome. In Roman Variations, Auder attests to his life-long fascination with the Eternal City and at the same time portrays the horrors and mindless drivel shown on television; here, specifically, on Italian TV.

In Talking Head (1981), a young girl (Auder's daughter) starts talking, almost repetitively, about a thing that was once there and then disappeared and never came back. While she is speaking, she is also busy extracting something from a plastic package, an activity that seems to calm her down.

A love letter in images, or rather an account of falling in love with a picture, Made for Denise (1979) is a direct and very personal message to the widow of the painter Richard Lindner (1901–1978). We see a photograph of a young woman in the palm of Auder's hand, which slowly closes and opens, concealing and revealing the portrait, caressing the image. The soundtrack is a composition by Philip Glass — now melancholy, now uplifting.

Do you love me? (2013), the most recent work in the exhibition, is a collage of material shot in various places and filmed exclusively using the camera in Auder's mobile phone. The title's question — "Do you love me?" — seems to be answered through the images, without a word being spoken by the unknown addressee.

The selection of works making up the exhibition Stories, Myths, Ironies, and Other Songs: Conceived, Directed, Edited, and Produced by M. Auder takes us on a journey through Auder's career as a filmmaker and captures the signature style of his oeuvre. Auder, who would describe himself as an untrained anthropologist, shows in his films both the beautiful and the terrifying sides of daily life, and looks at people coming together in situations ranging from the banal to the extreme, as painful and real as our own lives. The maker and the spectator join in the act of looking, negotiating what is there to be seen and how to look at it. It is above all when looking, and specifically when looking at other people and through someone else's eyes, that we suddenly realise the extent to which — in the familiar world that we know so well and look at every day — we have all become estranged.

The following edition has been produced in conjunction with the exhibition. It is available at the reception desk of the Kunsthalle Basel.

Michel Auder
Film Stills #1
41.5 × 60 cm

C-Print

Edition von/of 20 + 2AP

The exhibition is made possible by the generous support of
LUMA Foundation and Martin Hatebur.

///

Michel Auder (*1945 in Soissons, FR) lives and works in New York, USA.

Solo exhibition (selection): Portrait of Michel Auder, Culturgest, Lisbon, Portugal (2013); Michel Auder, Clown Eggs, Office Baroque, Antwerp (2013); Monographic Screenings, dOCUMENTA (13), Kassel, Germany (2012); Matter of Fact, Hessel Museum, Bard College, USA (2012); Michel Auder, Kayne Griffin Corcoran Exhibition Space, Los Angeles, USA (2012);* Etablissement d'en face, Brussels, Belgium (2012); Language is Only a Word and I'm so Jealous of Birds* (curated by Kristine Jærn Pilgaard), NoPlace, Oslo, Norway (2011);* Endless Column and Narcolepsy, Galleria Fonti, Naples, Italy (2011); *The World Out of my Hands, Lund Konsthall, Sweden (2010); Keeping Busy: An Inaccurate Survey of Michel Auder, Newman Popiashvili Gallery & Participant Inc, Zach Feuer Gallery NY & Volume2 L A, USA (2010); Michel Auder, Narcolepsy, Newman Popiashvili Gallery, New York, USA (2010); The Feature screening at Museum of Modern Art, New York, USA (2009); Michel Auder Survey, Cubitt Gallery, London, UK (2009); European Kunsthalle, Cologne, Germany (2008); Extra City, Antwerp, Belgium (2007);* Midway Contemporary Art, Minneapolis, USA (2006); *Retrospective at 11th Biennial of Moving Images, Geneva, Switzerland (2005); Michel Auder: Viewer and Participant, Friche la Belle de Mai, Marseille, France (2005);* Other Things with Michel Auder, Ocularis, Brooklyn, USA (2005); Michel Auder: Chronicles and Other Scenes, Williams College Museum of Art, Massachusetts, USA (2004); Michel Auder: Secret Sharer, Participant Inc., New York, USA (2003); Michel Auder: Selected Works 1970–2003, Anthology Film Archives, New York, USA (2003); Michel Auder: Retrospective 1969–2002, The Renaissance Society at the University of Chicago, USA (2002); *Portrait of Alice Neel, Philadelphia Museum of Art, Philadelphia, USA (2001); Kunsthalle St. Gallen, St. Gallen, Switzerland (2000).

Group exhibitions (selection): Almanac, Newman Popiashvili, New York, USA (2013); The Jesus Show, Micro-scope Gallery, New York, USA (2013); Privacy, Schirn Kunsthalle, Frankfurt, Germany (2012); Pursuit of perfect: The politics of Sport; South London Gallery, London, UK (2012); LUX/ICA Biennial of Moving Images, London, UK (2012); Something in the Way, Lofoten International Art Festival, Lofoten, Norway (2011);* Lust Und Luster, Kunstmuseum Bern, Bern, Switzerland (2010); *Strange Comfort, Kunsthalle Basel, Basel, Switzerland (2010);* The Feature, Anthology Film Archive and MoMA, New York, USA (2009); Chelsea Hotel: Ghosts of Bohemia: Harry Smith, Andy Warhol, Robert Mapplethorpe, Michel Auder, Jonas Mekas, DOX Center for Contemporary Art, Pra-gue, Czech Republic (2009); Reality Check, Statens Museum for Kunst, Copenhagen, Denmark (2008); BB5, Fifth Berlin Biennial V, Berlin, Germany (2008); Dear Mosquito of My Heart, Center for Contemporary Art, Tel Aviv, Israel (2007); *Manhattan Transfer, Zone: Chelsea Center for the Arts, New York, USA (2006); The Future has a Silver Lining, Migros Museum, Zurich, Switzerland (2004); The First Decade-Video From the EAI Archives, The Museum of Modern Art, New York, USA (2002).