Einar Schleef
03 - 09 Sep 2006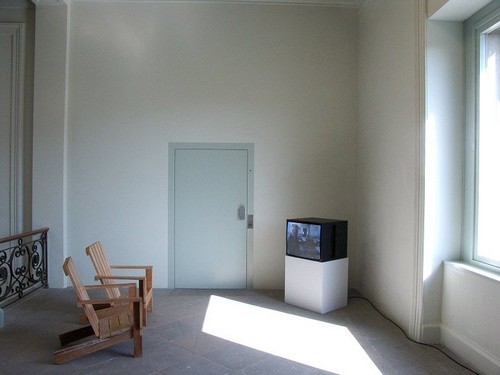 Einar Schleef - Kontaktbögen, Installation view staircase Kunsthalle Basel 2006
Photo: Stefan Meier
© Kunsthalle Basel, 2006
EINAR SCHLEEF
"Kontaktbögen (Contact Sheets)"

3 September–9 September 2006

The Theater Festival Basel and the Kunsthalle Basel take pleasure in announcing a cooperation of a special kind. Within the framework of the Theater Festival Basel, which will take place from 31.08. to 09.09.2006, photographs by Einar Schleef will be on show in the Oberlichtsaal and the two adjoining rooms at the Kunsthalle Basel. This exhibition has already been shown at the Akademie der Künste in Berlin, from 05.02. to 02.04.2006. The curator, Regine Herrmann, developed the exhibition concept for "Einar Schleef Kontaktbögen" jointly with Einar Schleef and it has merely been adapted to the spatial givens at the Kunsthalle Basel.
Einar Schleef (1944-2001) presented the concept for this exhibition of photographs to the Akademie der Künste in autumn 1999. What is new about this particular concept is its exclusive focus on his photographic oeuvre and its disregard of his paintings, writings and stage works. In the light of Schleef's sudden death in 2001, this concept forces us to take another look at his biography and at German-German history. What was originally conceived as an inventory of his life in his middle years, is now being presented as a photographic (life's) work, parallel to the publication of his diaries and the monumental novel Gertrud by Suhrkamp Verlag. The photographs – the archive includes more than 7000 prints and more than 600 contact sheets – are mainly black-and-white, although later he also used colour film, and they testify to what Einar Schleef sought, examined, observed, selected and experimentally re-arranged in everyday life. The contact sheets can be "read" like a supplement to the diaries; it is no coincidence that Schleef drafted the photography exhibition in conjunction with his work on their publication. Schleef's photographs often seem like stills from documentary films; they are unadorned, raw and never staged, almost as if taken in passing.
Einar Schleef always designed the spaces for his exhibitions and he left behind a sketch for this one with thematic directions. Using terms like "Contact Sheets", "Diary-Contact" or "Photo-Biography in Images", the concept he proposed for thematic orientation clearly underscores the biographical aspect. Starting with the photographs of "The Neighbours 1965" he unfurls a whole range of themes and situations that were of importance to him, such as Sangerhausen, Berlin, Frankfurt am Main, New York and Madrid, Denmark, and death (of his mother). The photographs are many and varied, as are their angles and viewpoints and the possible interpretations. Above and beyond the biographical, the exhibition conveys aspects of every life and everyday culture and almost "by the way" narrates aspects of German-German history. It is indeed a great pity that Einar Schleef could not mount the exhibition himself, but fortunately he left behind his concept to which the curator of the exhibition has consistently adhered.

Text by Regine Herrmann from the press release for the exhibition "Einar Schleef Kontaktbögen" at the Akademie der Künste Berlin.