Daniel Knorr
20 Sep - 15 Nov 2009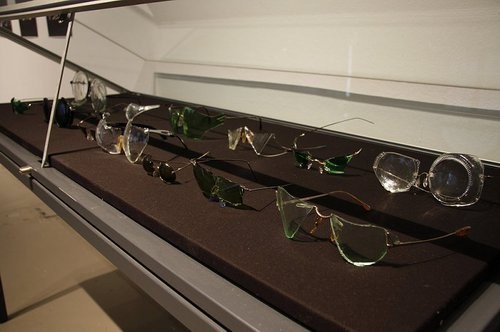 © Daniel Knorr
Scherben bringen Glück,2008
Eyeglasses out of broken glass
Kunsthalle Fridericianum, Kassel
Photo: Daniel Knorr
Courtesy the artist
DANIEL KNORR
"Led R. Nanirok"

20 September–15 November 2009

Opening: Saturday, September 19, 2009, 7pm

Kunsthalle Basel is pleased to present the new exhibition Led R. Nanirok by Daniel Knorr.

Daniel Knorr was born in 1968 in Bucharest and he currently lives in Berlin. The artist's works often assume deceptively simple shapes that are characterized by economies of modest means or, on the contrary, they materialize exuberantly as eye-catching large-scale interventions that interfere with the uniform expression and clearly defined functions of public urban spaces. Some of the realized projects include painting national, religious and military symbols on trams in Bucharest, mounting a huge propeller on top of a former mill in Rotterdam, and procuring a child drawing with cocaine that had been confiscated by police. In most cases, the works are pitched against an existing situation and result from the artist's insights into specific local conditions. Knorr's pieces transform locally found or appropriated materials and man-made objects, interrupt official procedures, alter typical patterns of human behavior in public space, and even question natural phenomena. In the artist's practice, the entire world of human experience is defined as consisting of cultural phenomena and becomes subject to modifications that are meant to invest the familiar objects or processes with an unexpected surplus of meaning.

At Kunsthalle Basel, in his most ambitious project to date, Knorr has designed a series of works that connect all five galleries of the ground floor. Some of the pieces in the show have been made on site, while some have been previously produced and shown in other contexts. The works include such different formats as a piece of software developed for an interactive LED wall that extends over 30 meters and which reacts to visitors appearing in the gallery, a single LED that glows red to show when the artist is awake, a "snowman" brandishing a palm leaf, and a gathering of scarecrows dressed in haute couture.

The new interactive digital animation Validate me includes a people counter, a commercially produced laser instrument installed in the Kunsthalle reception area that counts each visitor entering the space. Five flat screens – one in each gallery – are connected to the people counter via a computer network. The screens display the visitors, who are represented as red dots moving inside a schematic drawing of the Kunsthalle ground floor, which resembles an outline of a handgun. The visitors circulate inside the gun and disappear upon exiting the show. This work will remain in operation after the show has ended, with the people counter permanently installed in the entrance area transmitting data to the monitors on display in other locations worldwide.

The exhibition is accompanied by the book Daniel Knorr: Led R. Nanirok. It is arranged and designed by Daniel Knorr and Ludovic Balland, with drawings by Fei Teng and essays by Bogdan Ghiu, Dieter Roelstraete, Alina Serban, Adam Szymczyk, Attila Tordai-S. and Rein Wolfs. The book is published and distributed by JRP|Ringier in Zurich and co-published by Kunsthalle Basel and Kunsthalle Fridericianum in Kassel. Led R. Nanirok is an anagram of the artist's name.On the occasion of the show at Kunsthalle Basel, Daniel Knorr's artist book Cudesch d'artist will be published in Rumantsch, one of the four official languages of Switzerland. Various objects that had no value were picked up from the streets of Basel and Zurich in the frame of the project kunstpassanten during public street walks by Daniel Knorr and his collaborators and pressed flat between the pages of the book with an industrial 20-ton press. This book is the fourth volume in the project, which currently includes versions in Romanian, Chinese and Gaelic.

< Online Interview with the artist on Vernissage TV Part 1

< Online Interview with the artist on Vernissage TV Part 2

Daniel Knorr's individual exhibitions include Scherben bringen Glück at the Kunsthalle Fridericianum, Kassel; The way politics influences art and vice versa, at the Fondazione March, Padova (both 2008); the Romanian Pavilion at the 51st Venice Biennial (2005), and The Project, New York (2002). He had a two-person exhibition, La femme de ma vie ne m'aime pas encore, with Nevin Aladag at Fri-Art, Centre d'Art Contemporain, Fribourg (1999). He has participated in numerous group shows, including: Periferic 8 – Art as a Gift, Iasi, Manifesta 7, Rovereto; the U-TURN Quadrennial for Contemporary Art, Copenhagen; the 5th berlin biennial for contemporary art, Berlin (all 2008); Beneath the Underdog, Gagosian Gallery, New York (2007); Mafia, Standard, Oslo (2006); Handlungsformate, Kunstverein Göttingen (2005), and Openingshow, Galleri Nicolai Wallner (1993).

The exhibition has been made possible by: LUMA Foundation

The exhibition has been financially supported by: Regent Lighting

In-kind sponsorship support has been provided by:
Winkler Veranstaltungstechnik AG
Sick AG
Triple M-Systems
Berger Consult Basel GmbH

The book Daniel Knorr: Led R. Nanirok has been financed through a grant from the Romanian Cultural Institute in Bucharest.

Haute couture by La Maison Anouschka, Paris.