Danai Anesiadou
25 Sep - 13 Nov 2011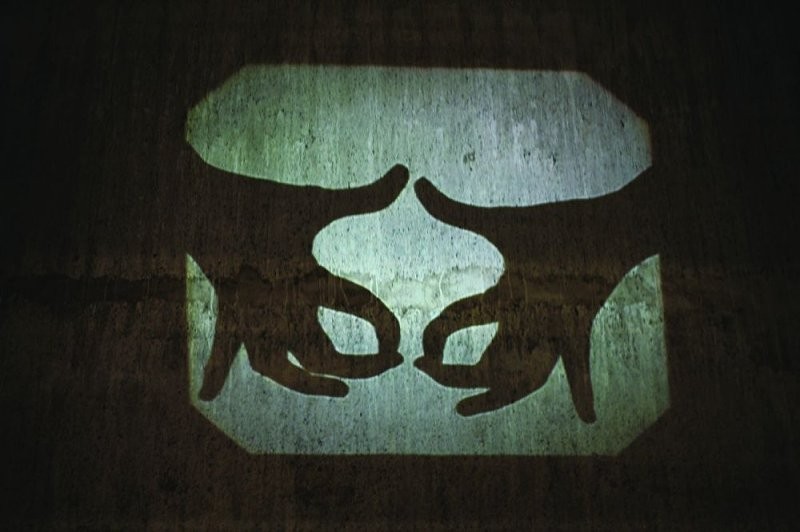 © Danai Anesiadou, Mandagloire, 2010, Video
The Other Tradition, WIELS Contemporary Art Centre, Brussels
Courtesy the artist and Elisa Patteau & Cie Galerie, Brussels
Photo: Diana Duta
DANAI ANESIADOU
Damnesia Vu
25 September–13 November 2011

Under the title Damnesia Vu, Kunsthalle Basel presents the first solo exhibition in Switzerland of the crossover-genre work of the artist Danai Anesiadou. Following her participation in the 5th Berlin Biennale in 2008 she has increasingly gained recognition in the visual arts scene as an independent performance artist, and subsequently appeared in several group shows in Europe.

Anesiadou's practice attests strongly to biographical reminiscences. A German-born Greek, raised in Belgium and resident in Brussels and New York, the artist regards her present situation as temporary permanence, constantly renegotiated between the past and the future, and immediately palpable only in those magical moments when both these dimensions appear to coincide. For Damnesia Vu at Kunsthalle Basel, the artist creates a surreal environment incorporating iconography related to her Greek background as well as to B-movies and Nouvelle Vague films: scenery in which the reality of cinema and the fiction of everyday life appear to mingle. With Damnesia Vu – a play on Anesiadou's last name and the words déjà vu, amnesia, and damnation – the artist moves beyond the crux of a personal quest for identity and love to address the auspicious, ironic game of life itself, a game that ultimately leaves one guessing as to who one really is.

In winter 1867, the architect Johann Jakob Stehlin-Burckhardt submitted his competition design for a Kunsthalle in Basel. As a motto he chose the opening lines of Goethe's poem Künstlers Morgenlied (Artist's Morning Song, 1773): 'Der Tempel ist euch aufgebaut / Ihr hohen Musen all' (The temple is built for you / All you high Muses). This quotation in support of Stehlin-Burckhardt's neo-classical project reveals what the Kunsthalle was meant to become: the permanent home of the Muses, in line with the Enlightenment idea of the museum as temple of the arts and the artist as divine creator. The "neo-Doric" columns arranged by Anesiadou in the temple-like Oberlichtsaal (skylight hall) of the Kunsthalle are in fact no more than plastic film props. In contrast to the decorations found commonly in supposedly typical Greek restaurants beyond the borders of Greece, – which are often only cheap imitations of the "tavernas" in the home country, yet seek to suffuse holidaymakers with "the feel of Greece" and native Greeks with national pride – the patently fake columns rather underscore than hide the artificiality of the setting. Anesiadou, who – as she says – has difficulty recognizing her adult female self against this backdrop – stages the quest for personal identity as a permanent balancing act between delving into the past and projecting potential futures. The temporality in her works is hence characterized by shifting perspectives, incongruence of narrative, breaks and cross-fades, similar to that of avant-garde cinema. Anesiadou's inquiry is not meant to expose a conflict between different cultures but it is a tool in construction of trans-cultural fiction, a deeply relished transformative trip into the twilight zone of vague presentiments and superstition, in which losing oneself is a viable prospect. In analogy to Plato's allegory of the cave, according to which things that the prisoners of the cave perceive as real are in fact mere shadows of the truth, Anesiadou demonstrates the role cultural heritage plays in the construction of the self, overwriting the subjectivity as part of a scripted fiction.

The reference to cinema runs through the entire exhibition. Nine large collages are installed in the main space, based on film posters and presenting each a different, hybrid "idol" – ranging from anonymous soft-porn stars to Catherine Deneuve and Jeanne Moreau. These works can be read as perverted effigies of the 9 Muses that once ruled over arts and sciences. In the same gallery visitors encounter the Rohmer's desk, an imitation of the desk of gallery owner Gontrand, a character in Eric Rohmer's film Quatre Aventures de Reinette et Mirabelle, (1987). The desk appears in the scene in which Reinette, a young, impoverished painter, sets out to sell a painting to Gontrand. Convinced as she is that art needs no further agency beyond itself – given not only that it speaks for itself but is also the medium by which a personal rapport is established in unspoken mutual understanding, between its creator and its observer – she decides to negotiate the sale in silence; the outcome is a monologue by Gontrand, who is impassioned by his own critique of the painting and buys it from her. If the exhibition is structured as a journey of anamnesis – a series of guiding images and recollections that illustrate the search for the self – the Rohmer's desk stands for an altar piece, the site where the artist's "true self" is sacrificed by the art world's priests. Anesiadou's criticism is never directed exclusively at the exhibition strategies and forms of agency commonly pursued in the art world, for she is equally prepared to poke fun at herself as a part of the very system she ridicules.

In the second room of the show, in stark contrast to the profusion of images that fill the other rooms, Anesiadou shows just one enlarged photograph from her family archive, showing the moment of her being baptized by an Orthodox priest and thus made part of one of the world's symbolic orders without having been given a choice.

The last room of the exhibition is modelled on a film scene from Rainer Werner Fassbinder's In A Year With 13 Moons, (1978). Here, in a mirror-tiled toilet of a hotel bar, Elvira – a transsexual who used to be Erwin but cast off her male persona out of love for a heterosexual man – recounts in the company of a prostitute friend the recent break-up of her relationship, her sad childhood, and the painful step of transition. The exhibition space – which is tiled with mirrors, resembling the décor of the toilet in the film – thus figures as a psychic abyss in which all illusions about life have already gone down the drain, and the creative and transformative power of love appears to have changed vector and turned into self-destruction. Fassbinder's film is prefixed by a reminder – namely that every seventh year is a moon year, in which those who are governed primarily by emotions are particularly prone to suffer even more self-doubt than usual. The same occurs in years with thirteen moons. If a moon year and a year with thirteen moons coincide, personal catastrophes will inevitably occur.

'What is this place and where am I? I don't remember my name.' These are the first words in Damnesia Vu, the episode of the American computer-animated TV series Xavier – The Renegade Angel shown in the "Fassbinder room". In order to find answers to his questions, the protagonist Xavier is doomed to fathom his soul seven times, and so – in the psychedelic, absurd, grotesque and discontinuous narrative style of the series – he embarks on seven imaginary trips into the past, thereby symbolically passing each time through a door. Yet neither the reason why Xavier has completely lost his memory nor the nature of the pernicious power that drives him to descend to the depths of his soul is ever revealed. In the hope of solving these riddles, he opens all seven doors simultaneously. A disembodied voice emanating from a slot machine announces: 'Congratulations. You may now begin to play the game of life'.

The exhibition's subtitle Zum Besten der Griechen (To the best of the Greeks) is a line printed on the cover of an 1826 exhibition catalogue published by Basler Künstlergesellschaft (Basle Artists Society), an organization, which in 1864 merged with Basler Kunstverein (Basle Art Association) in order to build Kunsthalle Basel. A part of the proceedings from sales of exhibited works was donated to support the Greek struggle for independence from the Ottoman rule (1821-29). Quoted today, Anesiadou's Zum Besten der Griechen can be read almost as a heartening toast made in the face of an imminent catastrophe that threatens to put the familiar world out of joint, to rock it beyond recognition, or to call forth fantastical creatures of the netherworld who will suddenly populate the earth and herald pure chaos: an exhibition scenario whose relevance – given the current economic and political impasse all-too-easily attributed to Greek rather than to global crisis – extends far beyond the bounds of the show at Kunsthalle Basel.

The exhibition has been generously supported by Herzog & de Meuron.

Danai Anesiadou (born 1973 in Pirmasens/D) lives and works in Brussels. Anesiadou studied Fine Arts at the Royal Academy of Fine Arts in Gent and also graduated from the Postgraduate Programme of Advanced Research in Theatre and Dance Studies at DasArts in Amsterdam. Previously she worked in the field of costume design and scenography for theater plays, dance performances and short films. She participated in the residency programmes of Banff Center, Banff (CA) in 2010 and of the International Studio and Curatorial Program (I.S.C.P.) in New York in 2011. Solo exhibitions (selection): Galerie Elisa Platteau, Brussels (2011); Isomosis, Isofix, Isomopolis, Etablissement d'en Face Projects, Brussels (2009); I Kiss Your Ectoplasm Like I Would a Shark, Kiosk, Ghent (2009). Group exhibitions (selection): The Other Tradition, Wiels Contemporary Art Center, Brussels (2011); Melancotopia, Witte de With Center for Contemporary Art, Rotterdam (2011); Curated by, Christine König Galerie, Vienna (2010), Jahresgaben, Neuer Aachner Kunstverein, Aachen (2010), Morality. Let Us Compare Mythologies, Witte de With Center for Contemporary Art, Rotterdam (2010); Projections, Panorama-Festival, Athens (2009), Rooms Kappatos 2009, Athens (2009); x, y & m, Galerie Elisa Platteau, Brussels (2008). Performances (selection): Erst kommt das Fressen, dann kommt die Moral, Lecture Performance with Marco Bruzonne, Public School, Brussels (2010), Paralipomena: Portrait of a Woman, Morality. Of Facts and Fables, Witte de With, Rotterdam (2010), Mandagloire, The Prompt, Kunstverein New York/Performa Festival NY, Bolzano (2010), Mandagloire, Banff Center, Banff/CA (2010); One Measures a Circle, Beginning Anywhere, Unscene, Wiels Contemporary Art Center, Brussels (2009), Chuck Norris Doesn't' Sleep, He Waits, by Anesiadou, Bryssinck & Peeters, Beursschouwburg, Brussels (2009), Feelings, There is No(w) Romanticism, Galerie Les Filles du Calvaire, Brussels (2009); A Night of Psicomagia, 5. Berlin Biennale, Berlin (2008), Chuck Norris Doesn't' Sleep, He Waits, by Anesiadou, Bryssinck & Peeters, Something Raw Festival, Brakke Grond, Amsterdam (2008); Chuck Norris Doesn't' Sleep, He Waits, De Donderdagen, Singel, Antwerp (2007); Same Difference: Murder Mysteries, Emotion Pictures, MUHKA, Museum for Hedendaagse Kunst, Antwerp (2005); Same Difference: Murder Mysteries, with Alexandra Bachzetsis, Etablissement d'En Face Projects, Brussels (2004).