Cyprien Gaillard
28 Mar - 24 May 2010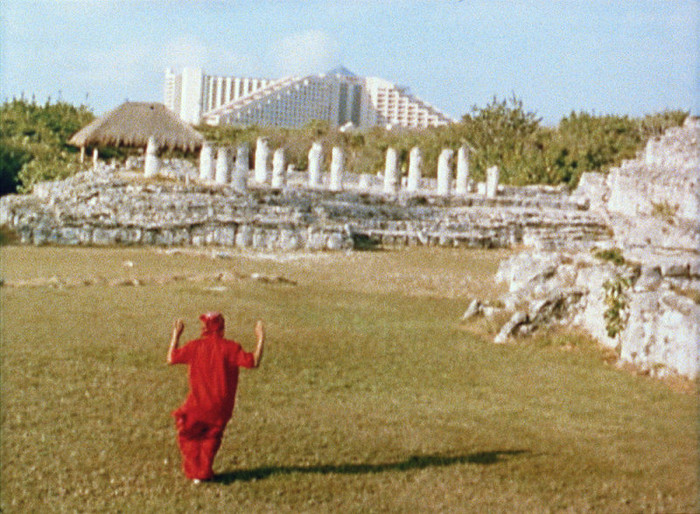 Cyprien Gaillard
Cities of Gold & Mirrors, 2009
16mm Film still, 8' 52"
Courtesy der Künstler & Laura Bartlett Galerie, London
Cyprien Gaillard
Obstacles to Renewal
28 March–24 May 2010

Kunsthalle Basel is pleased to announce Obstacles to Renewal, the first solo exhibition in Switzerland by Cyprien Gaillard (born 1980, Paris). The artist will present Geographical Analogies (2006–2010), a work consisting of one hundred vitrines with Polaroid photographs of modern and historic buildings and sites. The show also includes a 16mm film, Cities of Gold and Mirrors, which was shot in Mexico in 2009, and a new work that is composed of a large banner stretched on canvas and entitled Flying Indians (2010).

Using 'found' artifacts and working with photography and film, Cyprien Gaillard explores the remnants of modern architecture in contemporary surroundings, and documents its decay and disappearance. These monumental 'obstacles to renewal' stand anachronistically in the landscape, awaiting an inevitable and costly demolition. Gaillard's works elaborate on the obsolescence of these architectural projects and the tension between destruction and renewal. Landscape painting and land art influence Gaillard's work as much as music videos and graffiti. In a number of films, Gaillard contrasts dramatic imagery with atmospheric background music, evoking tides of feelings of loss and profound melancholy. In Desniansky Raion (2007), the demolition of a suburban housing project in Paris is accompanied by a laser show; other parts of the film feature a street battle between hooligans in a run-down district of St. Petersburg, and aerial views of a housing scheme in a Russian town against the backdrop of a steppe landscape. At the invitation of the Kunsthalle Basel, Gaillard previously showed the film together with the musician Koudlam in a live performance at the Stadtkino Basel in 2007.

Thirty years ago, Cancun was still a small fishing village. Today it is synonymous with budget tourism, with hundreds of young Americans visiting during their semester break – to get around the alcohol prohibition for minors in their home country. Gaillard's 16mm film Cities of Gold and Mirrors (2009) is shot in Cancun. Its five parts show the buildings and their users: views of isolated ruins, golf courses and post-modern hotel resorts are followed by images of the drinking rituals of young men. Simplistic and vulgar appropriations of motifs from indigenous culture can be recognized in the pyramid-shaped buildings and jungle-like hotel lobbies, as well as in the logos on the bottles of beer and mescal. The music accompanying the film is taken from the soundtrack of a 1980s Japanese-French cartoon series, a docu-fiction about the discovery of America.

Flying Indians (2010), is a 4 × 5 meter banner with the logo of the Cleveland Indians American baseball team – a cartoon-like depiction of a Native American with an impish grin. In the exhibition, stretched on canvas, it appears to be a relic from a time long gone.

Gaillard's most comprehensive work to date is Geographical Analogies (2006–2010), which is presented in its entirety at Kunsthalle Basel. Since 2006 the artist has been taking Polaroid pictures of landscapes and architecture throughout the world. Polaroids are arranged in a diamond shape in groups of nine, following the logic of formal analogies and encased in one hundred vitrines displayed on two long tables. Wastelands next to historical parks, Cambodian temples overgrown with tropical forest next to a sign that says 'Optimist Youth Building', graffiti on walls in the New York Bronx next to tags spray-painted on churches. Gaillard's atlas is beyond the standard classifications, subjective and ephemeral, as the Polaroids keep fading with each presentation.

This exhibition has been made possible by the generous support of Peter Handschin.

Cyprien Gaillard was born in Paris in 1980 and currently lives and works in Berlin. He is a graduate of Ecole Cantonale d'Art de Lausanne (ECAL).
Solo exhibitions (selection): 2010 Museum für Moderne Kunst, Frankfurt am Main; 2009 Sprüth Magers Berlin, Berlin; Sedimented Landscapes, Laoratorio978, MUSAC - Museo de Arte Contemporá de Castila y León, León; Cyprien Gaillard, Live at Tate Modern, Turbine Hall, London; Cyprien Gaillard, FRAC Champagne Ardenne, Reims, Pruitt-Igoe Falls, Museum Fridericianum, Kassel; Beton Belvedere, Stroom Den Haag, The Hague. Group exhibitions (selection): 2010 Wystawa, Museum for Modern Art, Warzawa; Malta Contemporary Art, Valletta; Hirshhorn Museum and Sculpture Garden, Washington; Aichi Triennial, Nagoya; XIV International Sculpture Biennal of Carrara, Carrara; Baibakova Art Projects, Moscow; 2009 Platform 2009, KIMUSA, Seoul; Actual Fears, CAN - Centre d'art Neuchâtel, Neuchâtel; Modernism as a Ruin. An Archaeology of the Present, Generali Foundation, Vienna; Summertime; or, Close-ups on Places We've (Never) Been—an Exhibition of Film and Video Work, San Francisco Art Institute, San Francisco; Desiring Necessities, John Hansard Gallery, Southampton; The Generational: Younger Than Jesus, New Museum, New York; Sounds and Visions. Art Film and Video from Europe, Tel Aviv Museum of Art, Tel Aviv; 27 November - 21 January, Dependance/Catherine Bastide, Brussels.