After Architects
28 Mar - 24 May 2010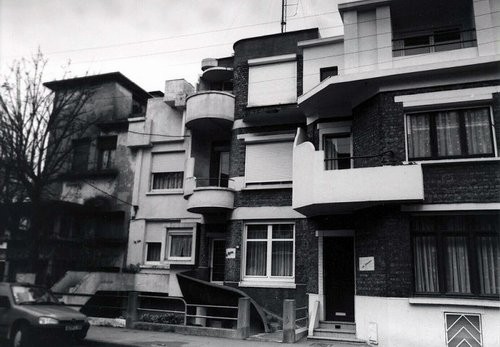 © Charlotte Moth
Maeve Connolly, 2010, Still
Photo-film, black-and-white, sound, 13'16''
Courtesy the artist & Marcelle Alix, Paris
AFTER ARCHITECTS

28 March–24 May 2010

Latifa Echakhch, David Jablonowski, Charlotte Moth, John Smith, James Welling, Haegue Yang

Opening: Saturday, March 27, 2010, 7pm
Press Preview: Friday, March 26, 2010, 11am

Kunsthalle Basel presents After Architects, a group exhibition with Latifa Echakhch, David Jablonowski, Charlotte Moth, John Smith, James Welling and Haegue Yang. The show, curated by Adam Szymczyk in collaboration with Annette Amberg and Roos Gortzak, examines the contemporary artists' divergent attitudes toward architecture and its discontents, looking at the unspectacular, conflicted and often problematic aspects of the architect's legacy.

Exhibitions should not be mistaken for architecture, although any form of display needs to be designed and built. But contrary to the many utilitarian functions that are served by architecture, the essential purpose of exhibition display, no matter what the subject of the exhibition at hand, is to create conditions for the visitors to see and experience works of art. Or, more precisely, the exhibition display conditions the act of viewing by constructing it as a controlled passage through a specially built environment, with aids such as labels, wall texts and audio-guides, leading visitors from entrance to exit within a relatively short span of time. The architecture of exhibition display, and how it influences the perception and interpretation of presented material, has become the subject of artists' interest as part of Conceptual art's agenda, which includes critically questioning the museum apparatus as an integral part of the capitalist society's power system. The dispositif of the architecture of the exhibition space and its real existing surroundings – the city's private and public spaces – has become an operational field for many artists. Early examples of works addressing architecture and exhibitions can be found in Robert Smithson's essays like as "Entropy and New Monuments" (1966), his critical assessment of international late modernism; in Dan Graham's Homes for America (1965), which documents typical one-family row houses in the American suburbs; in Hans Haacke's Shapolsky et al. Manhattan Real Estate Holdings, A Real Time Social System, as of May 1, 1971 in which he investigates real estate speculation mechanisms; in Michael Asher's sandblasted spaces of Galleria Toselli in Milan (1973); and in Gordon Matta-Clark's Conical Intersect (1975), the artist's "cut" into two buildings that were slated for demolition in the Les Halles area of Paris to make room for the new Centre Georges Pompidou.

Artists have long been employing various "strategies against architecture" (to borrow the phrase from the title of Einstürzende Neubauten's 1983 compilation album) as means of aesthetic resistance, rightly identifying buildings and their interiors as symbolic and actual sites of power, and trying to imagine a "life without buildings" (to borrow the phrase from the name of a Glasgow band from the late 1990s) and "architecture without architects" (the term proposed in the titular 1964 exhibition at MoMA, curated by Bernard Rudofsky).

In the 1990s the line of direct interventions performed on existing buildings continued, but in a much-changed sociopolitical and economic context. See, for instance, Rachel Whiteread's House (1993), a concrete cast of the interior of a Victorian house on a street in East London where all the houses had been demolished to make room for the new real estate project. Furthermore, distinctive statements concerning politics of domestic and public space can be read in the discursive and layered installations of Marc-Camille Chaimowicz, which have attracted growing attention in the current decade (for example, his Celebration? Realife, 1972, at Gallery House in London, an anti-minimalist, domestic-glamorous immersive environment made of found objects), as well as in the works of Christian Philip Müller (Forgotten Future, Kunstverein Munich, 1992, a path-breaking installation for the work of many artists in the years to come, which explored modernism as an archaeological site and futurological projection device) and the photographs of James Welling and Louise Lawler. All of these artists established paradigms for contemporary art's ways of dealing with architecture that are acknowledged, discussed, revised and transformed by numerous artists working with and within the built environment today.

The premise of the "After Architects" exhibition is grounded in the notion that neither architecture nor exhibition display should be considered as a given and neutral part of "our world", but that, on the contrary, the role of architecture must be constantly questioned and its meaning reinterpreted through the lense of lived experience. Historically, buildings and exhibitions were constructed to serve various ideological agendas and thus must be considered in relation to the concrete economic and political contexts in which they were created. Art can provide an efficient means to understanding how buildings make us play roles in other people's scenarios. It can also show us how we are exhibited through our exhibitions and what it is that looks back at us when we fix our gaze on a room or building (a subject of "Rooms Look Back", an exhibition at Kunsthalle Basel, curated by Simone Neuenschwander in 2008). "After Architects" departs from the point at which architects disappeared from the stage and left their creations looming over us, since it is we – the users, or "people" – who are not only the passive, virtual addressees of architects' work but also the actual acting subjects in the architecture that we inhabit, respond to and change.

< Online review on the exhibition at artline

Latifa Echakhch

Latifa Echakhch's multifarious artistic practice is characterised by economy of means and forms, employed to investigate the possibilities of coming to terms with culturally specific socio-political issues. Aware of her own background as a Moroccan immigrant raised in France, Echakhch's work considers concepts of identification and alienation vis-à-vis Western European cultural patterns. Her videos, sculptural works and installations are poetic and political at the same time. They re-contextualise everyday objects, artefacts and theoretical texts, national symbols and ideological statements, to re-interpret their original meaning.

For After Architects, Echakhch has made the wall drawing Plainte (Complaint) that refers to the standard measurements of Le Corbusier's Modulor. The artist used black charcoal to cover the surface of eight walls in three different rooms of the exhibition, each time from the floor level up to one of eight standard heights of the Modulor system – between 27 and 226 cm. While Le Corbusier defined his system as a "range of harmonious measurements to suit the human scale, universally applicable to architecture and to mechanical things," Echakhch's intervention makes it apparent how modestly sized and even oppressive it appears today, which becomes especially apparent in the generous "pre-modern" volumes of the Kunsthalle exhibition rooms. Le Corbusier's "habitation unit" was inspired by Soviet communal block housing. Applied globally in Modernist mass housing schemes, the principles codified by Le Corbusier imposed uniform and often degrading living conditions upon residents, while holding out the promise of a better life. The titular "complaint" is voiced toward Le Corbusier's ideal. Echakhch's act of marking the white walls of the Kunsthalle with charcoal redefines the space and constitutes a temporary reclamation of a territory.

Latifa Echahkch (born 1974 in El Khnansa, Morocco) lives and works in Paris and Martigny, Switzerland. She studied at École Supérieure d'Art in Grenoble, as well as at École Nationale Supérieure d'Arts de Cergy-Paris and at École Nationale des Beaux Arts de Lyon.
Solo exhibitions (selection): 2010 Le rappel des oiseaux, frac champagne-ardenne, Reims / 2009 Movement and Complication, SI Swiss Institute, New York City; Latifa Echakhch, Galleria Francesca Kaufmann, Milan; Latifa Echakhch, Bielefelder Kunstverein; Les sanglots longs, Kunsthalle Fridericianum, Kassel / 2008 Speaker's corner, Level 2 Gallery, Tate Modern, London. Group exhibitions (selection): 2009 10e Biennale de Lyon, The Spectacle of the Everyday, La biennale d'art contemporain de Lyon; Invasion of Sound. Music and the Visual Arts, Zacheta, National Gallery of Art, Warsaw; The space between, Gävle Konstcentrum, Sweden / 2008 Manifesta 7, Bolzano; Shifting Identities, Kunsthaus Zurich / 2007 Global Feminisms, Brooklyn Museum of Art, Brooklyn, New York.

David Jablonowski

David Jablonowski's installations explore the origins of sculpture and emphasize its potential as a communication tool. "Researching and questioning the power of communication abilities as well as the engagement within the field of art, my work examines the strategies within the communicative limits of art production", the artist states.
For After Architects he made a new ensemble out of selected autonomous parts of his most recent work, Tchogha Zanbil. In this sculptural installation, two architectures meet: the best preserved ziggurat from ancient Mesopotamia, in present-day Iran, and the Azadi Tower (Freedom Tower) in the Iranian capital Tehran, which was built in 1971 as the Shahyad Aryamehr (Shah Memorial Tower) to celebrate the 2500th anniversary of the Persian monarchy, but renamed after the revolution of 1979. Both figure in the film presented on an LED-screen that is turned towards the inside of the monumental sculpture, resembling the pages of a book. In one part of the film, the camera scans the ziggurat's surface panning along the text carved in stones in cuneiform script. Sequences with rotating strips of photographic film occasionally obscure the view of the script. In the other part of the film, the camera records the representation and glorification of Iranian culture, natural riches and state power shown in the audio-visual display beneath the Azadi Tower, which is adorned with water fountains and lights, and which was originally designed by a Czechoslovakian firm.
The way the viewer is kept at a distance, unable to decipher the display's meaning, makes one aware not only of visual language's transience, but also of the presence (and eventual obsolescence) of display systems at work. The other sculptural elements in the work are metal cubes, reminiscent of Minimal sculpture, made out of offset printer plates. Mirrored in the sculptures' surfaces, the viewers become aware of their own role in the process of the production of meaning, and of the fact that the visual language is not an established, objective system - as the viewer is not a singular and determined entity.
The other work in the show, entitled Multiple, is made of plaster set vertically atop an open scanner. The piece suggests the possibility of applying the process of visual reproduction to unique objects and implies a transition from the flat scanned image to a three-dimensional thing – a mini-tower or leg splint, pointing to both architecture and the human body.

David Jablonowski (born 1982 in Bochum, Germany) lives and works in Amsterdam. He studied at the Gerrit Rietveld Academy in Amsterdam, at the Kunstakademie Düsseldorf, Germany and at De Ateliers in Amsterdam.
Solo exhibitions (selection): 2010 Material Kontingenz, SMBA, Amsterdam / 2009 Imposition, Schaufenster, Kunstverein Düsseldorf, Germany. Group exhibitions (selection): 2010 Group show, De Paviljoens, Almere, Holland / 2009 Frieze Art Fair, London; The Knights Tour (Contemporary Sculpture), Museum De Hallen, Haarlem, Holland; Offspring, De Ateliers, Amsterdam; Group show with gallery artists, Gallery Fons Welters, Amsterdam.

Charlotte Moth

Since 1999 Charlotte Moth has developed a photographic "Travelogue" that covers an itinerary concerned with a phenomenological reading of architectural spaces. "The 'Travelogue'", the artist writes, "is a constant through being an accumulation of analogue images that reflect my changing experiences of being in places. It looks at Modernist architecture, but is more a study of architectural spaces in the widest sense. I think of recent places that I have photographed, the Bauhaus in Dessau, a house in Bleckede, Germany, the hotel on the Isle of White that had an interior like the Guggenheim Museum, Aby Warburg's house in Hamburg, the shoe rack of an ancient temple in Japan. Time spent taking these photographs has enabled links between historical categories to develop and blur, in this sense the "Travelogue" is an organic thought process, a collage and activity that uncovers the to-ing and fro-ing of image and experience.
"A total of 24 hand-printed black and white images from my 'Travelogue' and a voice recorder were put into a box and sent to Maeve Connolly who had agreed to look and talk about them. No further instructions, or information about the origin of the sites within the images were given. I was sent back a recording that became the basis to develop a digital video work consisting not of moving images but the still images that originated from the box. The process with Sadie Murdoch was similar, this time though I was present, I took Sadie's portrait whilst she was talking."
Besides these works, Moth shows a new piece – a shimmering green sequined curtain transforms the architecture of the last room of the exhibition into an ambiguous stage set. Covering one entire wall like a screen, its soft and reflecting surface makes the viewers curious about an imagined space behind it. Moth wrote about her first sequined curtain realised for the Schaufenster Düsseldorf in 2009, saying she was reminded of a quote by Alighiero e Boetti, "Behind every surface is a mystery: a hand that might emerge, an image that might be kindled, or a structure that might reveal its image." Moth writes, "To make this work once was not enough. It develops through its transferability and displacement. Using consistent materials, I confront immovability through looking to make something unique to a place, a site. In this sense 'remade' is exactly what it is and what it is not, it becomes a contradiction of terms through a mechanism of displacement."

Charlotte Moth (born 1978 in Carshalton, England) lives and works in Paris. She studied at the Kent Institute of Art and Design in Canterbury, at the Slade School of Art, University College in London as well as at the Jan van Eyck Academy in Maastricht.
Solo exhibitions (selection): 2010 Halle für Kunst Lüneburg, Germany; Bloomberg Space, Comma 18, London; Marcelle Alix, Paris / 2009 Schaufenster, Kunstverein Düsseldorf, Germany / 2008 'potential narratives', Process room, Irish Museum of Modern Art, Dublin; 'two of a kind', Hermes und der Pfau, Dorten Haus, Stuttgart, Germany. Group exhibitions (selection): 2010 The revenge of the photographic archive, Studio Sandra Reccio: Photography Festival, Centre of photography, Geneva, Switzerland; Associations, with John Smith, Jeremiah Day, Arcade Fine Art, London.

John Smith

Over the last thirty years, John Smith has made humorous films that inventively document and probe his surroundings. Strongly influenced by the Structural Materialist ideas that dominated British artists' filmmaking during his formative years, but also fascinated by the immersive power of narrative and the spoken word, he has developed a body of work that deftly subverts the perceived boundaries between documentary and fiction, representation and abstraction. Drawing upon the raw material of everyday life, Smith's meticulously crafted films rework and transform reality, playfully exploring and exposing the language of cinema. His Hotel Diaries, a series of video recordings that relate personal experiences to the current conflicts in different parts of the world (e.g. Israel, Palestine, Afghanistan), are presented in After Architects on six monitors. In these works, the hotel room is employed as a "found" film set, where the architecture, furnishing and decoration become the means by which the filmmaker's personal circumstances and comments are linked to major world events. To quote the artist: "On October 8th 2001, a few weeks after the September 11th attack on the World Trade Centre and two days after the USA and Britain started bombing Afghanistan, I was at the Cork Film Festival in Ireland. Returning to my hotel room late at night, I switched on the television, intending to catch up on the latest news. Expecting to see a moving image, I was surprised to discover that the close-up of a man's face that filled the screen was completely still, frozen in time. I watched the screen for several minutes but nothing changed, and the clock in the corner of the screen remained stopped at 1.41. What was happening? Why wasn't the image moving? Worried and confused, I picked up my video camera and attempted to talk about what was going on inside my head. I had no idea at the time that this spontaneous recording was the start of a project that would occupy me for the next six years."

(Excerpt from John Smith's website.)

John Smith (born 1952 in London, England) lives and works in London. He studied film at the Royal College of Art in London.
Solo exhibitions (selection): 2010 Solo Show, Royal College of Art, London / 2006 Ikon Gallery, Birmingham / 2005 Kunstmuseum Magdeburg, Germany / 2003 Open Eye Gallery, Liverpool; Pearl Gallery, London.
The films of John Smith were regulary presented et all. at the 2007 Venice Biennale and film festivals in Oberhausen, Cork, Tampere, Uppsala, Bristol, Regensburg, Glasgow and La Rochelle.

James Welling

James Welling is known for his experimental approach to the medium of photography, and his work challenges the medium's technical and conceptual boundaries. In After Architects, seven photographs of his new Glass House series are shown. The series, consisting of 37 photographs, builds a chapter in Welling's ongoing investigation into photographic representation and visual abstraction. Using colour filters held in front of the lens of his digital camera, Welling has given many different (sur)faces to Philip Johnson's iconic Glass House (1949, New Canaan, Connecticut), the main subject of this series. Johnson's other buildings in the 47-acre estate also figure: the Brick Guest House (1949), the Lake Pavilion (1962) and the Lincoln Kirstein sculpture (1985). Welling states, "When I realized I could make the grass red or make sun flares, splatters, and different types of visual activity in front of this supposedly transparent house, or box, the project became a laboratory for ideas about transparency, reflectivity, and colour." He continues, "When I work at the Glass House, time seems to speed up. I never have enough time to work there. It's very strange. One of the problems I have with the house as a piece of architecture is that, as it is symmetrical, the front is the same as the back, there are very few views of it that I work with. I use a frontal view primarily (because you can see through the house) and occasionally I can get something out of a diagonal view.
"While the architecture of the Glass House in itself isn't so revolutionary, what is revolutionary about Johnson's house is its conceptual use of glass. This big glass box is plunked down in the Connecticut landscape. It's such a direct statement of transparency and of reflective surfaces. It's a lens in the landscape. In my work I'm adding to the conceptual conceit of the house by introducing a new decor of colour and of distorted reflecting surfaces."

James Welling (born 1951 in Hartford, Connecticut/USA) lives and works in New York and Los Angeles. He studied at the Carnegie-Mellon University in Pittsburgh, Pennsylvania and at the California Institute of the Arts in Valencia, California.
Solo exhibitions (selection): 2010 Glass House, Regen Projects, Los Angeles, California / 2009 Hapax Legomena, Donald Young Gallery, Chicago; Notes on Color, WAKO Works of Art, Tokio; James Welling, Gallery Nelson-Freeman, Paris. Group exhibitions (selection): 2009 Picturing the Studio, Sullivan Galleries, School of the Art Institute, Chicago; The Pictures Generation, 1974-1984, Metropolitan Museum of Art, New York / 2008 index: Conceptualism in California from the Permenant Collection, The Geffen Contemporary at the Museum of Contemporary Art, Los Angeles; 2008 Whitney Biennial, Whitney Museum of American Art, New York / 2007 Private/Public, Museum Boijmans Van Beuningen, Rotterdam.

Haegue Yang

Haegue Yang's practice, expansive in its forms, is resistant to easy categorization. Working often with non-traditional materials such as customized Venetian blinds, scent, lights, video and fans, she creates highly sensuous and experiential settings that eloquently attempt to reconcile personal and abstract experiences of the everyday. Her installations balance complexity and simplicity, exploring the actual and metaphorical relationships between material surroundings and emotional responses, locating her concerns around the notion of latent communities, and the symbolic violence inherent in the reality of a city.Her work Dehors (2006) is a slide installation presenting images of advertisements from Korean newspapers promoting soon to be developed architectural housing projects. It is one of the key works Yang has recently produced, reflecting on ideas of home, of desire, and of aspiration for future living.
Yang says, "When such advertisements in the daily newspapers in Korea first came to my attention as something to consider, I was initially struck by the fact of how the environment of our future is planned by commercial powers that lack vision. I probably need to admit that my initial feeling towards these images produced for the mass media was certainly anger and rage, which is usually called 'criticality', that I was drawn to it out of repulsion ... Eventually I began to realise that it wasn't only the deception, manipulative or speculative intentions of developers or construction companies, but also the distorted desires of the readers who also shamelessly project their wishes for fake utopia onto these developments. The feeling at the moment that I became conscious of both perspectives was amazing. Anger disappeared and sadness emerged.
If I was to advocate my politics as well as my generations', I would describe it as yearning and mourning for a subjective suffering, rather than an accusation towards the subjectivity of power. Being a witness of each other's homelessness would be a political act, rather than making the propaganda of promising another better world. Dehors is in this sense for me a view of myself and others who look actively into each other's universal homelessness."

(Excerpt from an interview by Nav Haq, Concept Store, Arnolfini, 2009.)

Haegue Yang (born 1971 in Seoul, South Korea) lives and works in Berlin. She studied at the Seoul National University, Fine Arts College in Seoul, at the Cooper Union in New York and she was Meisterschülerin at the Städelschule Frankfurt am Main, Germany.
Solo exhibitions (selection): 2010 Galerie Barbara Wien Wilma Lukatsch, Berlin; Artsonje Center, Seoul / 2009 Condensation, Korean Pavilionm 53th Venice Biennal; Haegue Yang - Integrity of the Insider, Walker Art Center, Minneapolis / 2008 Symmetric Inequalitiy, Sala Rekalde, Bilbao, Spain. Group exhibitions (selection): 2010 Art Sheffield, S1 Artspace, Sheffield, England; Hayward Gallery, London; Temporäre Kunsthalle, Berlin / 2009 Everything, then, passes between us, Kölnischer Kunstverein, Cologne, Germany.