6 Künstler aus Basel x2
27 Nov 2011 - 01 Jan 2012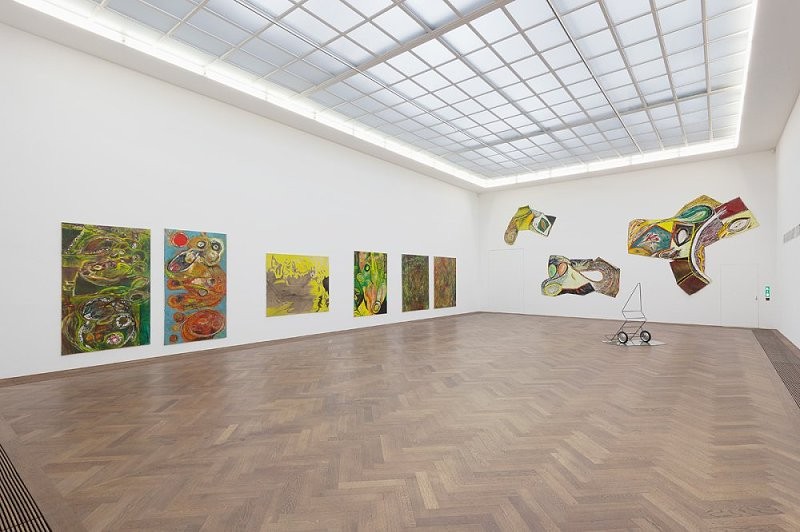 6 Künstler aus Basel x2
Christine Brodbeck, Miriam Cahn, Rut Himmelsbach, Alex Silber Company, Anselm Stalder, Vivian Suter, Hannah Villiger, Anna Winteler; Jannik Giger, Jan Kiefer, Dominique Koch, Daniel Kurth, Esmé Valk & Katharina Anna Wieser
Installation view
Photo: Gunnar Meier
© Kunsthalle Basel, 2011
6 KÜNSTLER AUS BASEL X2
27 November, 2011 – 1 January, 2012
Christine Brodbeck, Miriam Cahn, Rut Himmelsbach, Alex Silber Company, Anselm Stalder, Vivian Suter, Hannah Villiger, Anna Winteler; Jannik Giger, Jan Kiefer, Dominique Koch, Daniel Kurth, Esmé Valk, Katharina Anna Wieser
What you see is what you get: 6 Artists from Basel x2, the new show at Kunsthalle Basel comprises two different exhibitions, each featuring six artists. The title of the show is, on the one hand, a modest response to an increasing sophistication of titles and themes of group exhibitions today. Complex titles – such as, to borrow an example from Rebecca Uchill's useful web tool for lazy curators Random Exhibition Title Generator (
http://www.mit.edu/~ruchill/lazycurator.html
), Breaking Rubbish: The Dysfunction of Urban Experience – do not necessarily translate into equally challenging content or interesting curatorial work, or the quality of the work on view. The current show at Kunsthalle Basel originates from the belief the creative part lie elsewhere – in the way the exhibition is conceived, realized and communicated, in its capacity to accommodate the artists' ideas and to make them visible to the audience. The original 6 Artists from Basel (or even more briefly Artists from Basel, as the poster and catalogue had it in 1981) exhibition was curated in the early 1981 by the director of Kunsthalle Basel at that time, Jean-Christophe Ammann. Deceptively simple, almost generic, the title was puzzling and utterly un-poetic – a blunt, matter-of-fact headline, announcing the exhibition that did deliver precisely what it promised. The six young artists from Basel – Alex Silber, Anselm Stalder, Rut Himmelsbach, Hannah Villiger, Miriam Cahn and Vivian Sutter – took part in the show, which also included two performance artists, Christine Brodbeck and Anna Winteler, who presented their work during the exhibition, and two local bands, Welcome and The Wondergirls that were invited as part of the side program. Each of the artists arranged his or her work in a separate space and thus the exhibition became a constellation of six independent solo projects and not a "dialogue" type of group show, in which the works are mixed and juxtaposed, and which became standard today. Ammann's selection provided the opportunity for six upcoming figures of Basel scene to show their work for the first time at the major venue and – more importantly – in the prime time and not as part of the annual Weihnachtsausstellung (Christmas Exhibition) that has been taking place in Basel since ever, currently as Regionale. 6 Artists from Basel has become a legendary exhibition, and it was a high time for it to have been looked at again.
As Regionale is going through a period of animated and productive discussions between the participating institutions in three different countries, while remaining the most anticipated art exhibition of the year in Basel, it is important that the Kunsthalle Basel should be taking an experimental approach to the annual show. This year, the exhibition is divided into two distinct parts: the Oberlichtssaal, which in 1981 remained empty during the 6 Künstler aus Basel, as Max Kämpf (1912-1982) cancelled his show, unwilling to share the Kunsthalle with the young artists showing downstairs, will be the venue for an exhibition with six young artists who live and work in Basel and who were selected from among those who submitted their applications to Regionale. Downstairs, a curated retake on the historical 6 Künstler aus Basel"exhibition will be on view. This exhibition is a result of an invitation extended by the Kunsthalle Basel to five artists who participated in the 1981 show (the sixth one, Hannah Villiger, died in 1997, and therefore her work in the show is presented in agreement with and with advice of the artist Eric Hattan, acting as curator of the Estate of Hannah Villiger,) and to the two performance artists who were part of it as well. The positive, even enthusiastic response to the invitation that came from the artists has made this exhibition possible. The show is not intended to be a historical reconstruction but rather a contemporary reading of the individual artists' contributions to the exhibition that took place 30 years ago. At the same time, 6 Künstler aus Basel x2 posits that an exhibition is a form that remains and can be revived, "played again", rather than being just an event that ceases to exist once the show is over, or that continues to exist merely as a memory or document. Doing the same show differently, in a different time and changed context (both social and institutional), puts at stake the necessity to unsettle and reconfigure the original.
Some works displayed in 1981 return as afterimages. And thus, Alex Silber Company presents the prints of the original installation shots, made by Claire Niggli, alongside with new colour photographs that expand the meanings of Alex Silber's black-and-white photographs included in 6 Artists from Basel. Anselm Stalder's large-format paintings of 1981 are also reminisced – as downsized greyscale prints pasted on four sides of a specially made "poster stand". Photographs, paintings and installations by Rut Himmelsbach (who once gave away the last "h" of her first name to be used as the last letter in Hannah Villiger's first name) represent a continuum of her inquiry into the nature of image, which involves as highly personal as coded subjects. Miriam Cahn shows her work in the same space as in 1981 – and the signature piece from that show, the Kriegsschiff ("Warship"), an immense charcoal drawing on paper, is incorporated in the suite of newer and new works. Hannah Villiger, who became known predominantly through her large prints from Polaroids showing close-ups of the artist's body, which she termed Sculptural – is represented by a group of her late sculptures, fragile and tiny, made of various materials, such as paper and plastic packaging, wire, sponge and tinfoil, as well as by photographs showing different possible "applications" of sculptural works – from the temporary sculptures made of crumpled paper on the artist's work table, to a bundle of oversize Mikado sticks held together in a performance on public square in Italy. Vivian Suter, who since over two decades lives and works in Guatemala, shows her paintings on shaped paper (some of them were presented in 1981 exhibition) as well as a number of more recent paintings on canvas, produced in the artist's new, very different cultural context. It is the first time in a long time that a larger body of the artist's work will be on view in the institutional context in Basel.
In 1981, the 6 Artists from Basel were not a group; they knew and respected each other, but their show was not a collaborative project. After 1981, some became close friends and more than occasionally worked together, while others followed a path of their own. That they meet again in 2011 is already an unusual event; that they discuss and show their work together is an exciting experiment and a proof of the artists' open-mindedness, unhampered curiosity and amazing generosity.
The exhibition title, with the regard to the show on the second floor of the Kunsthalle Basel, primarly refers to the mathematical fact that six independent artistic approaches are on display. Still, these artists all engage in considerable reflection on their own working conditions, as mirrored in the context of artistic tradition. A critical examination of modernist ideologies as well as an awareness of the achievements of Minimal und Conceptual Art can be observed thereby. The use of wide-ranging media and a conscious, yet uninhibited approach to the artistic idioms of preceding generations seem indicative of the artists self-understanding.
The 1980s were marked by an interest in mastering and experimenting with the innovative potential of the new media. Understandably, in an age of digitalisation and global design, in which – if one wishes to speak pessimistically and polemically – individuality could be created by pressing the button of the random generator or by the calculated manufacturing error, technological mastery does not necessarily stay at the forefront of contemporary artistic interest or output.
In their readiness to confront the present with history and their sensitivity to the complexity of the social fabric, it is the temporal, spatial and medial one-dimensionality which the six young artists from Basel are questioning and abandoning in favor of constant reorientation, changes of perspective and discontinuity. In this respect: from back to front.
In his audiovisual installations, Daniel Kurth exploits the potential of the mutual influence between music and image. Fragments from his own visual and tonal archives undergo multiple processes of digitalisation. While working in one medium the artists imagination is engaged in a kind of synaesthetic process which supports the structure of the other medium. Although this process of emergence links them inseparably together, the resulting works are completely autonomous and removed from their original visual and tonal sources. BackToTheFutureStraightToThePast (2010) clearly is Kurth's own composition, though it is inconceivable without the reference to Hans Richter's experimental film Rhythmus 21 (1921), which provides the score. While Richter converted musical forms into a visual language, Kurth composes in analogy to the picture and sees the result as a re-arrangement of the musical concept represented in the picture. His interest thereby lies in probing means of giving the synthetic quality of picture and sound a sensually tangible shape.
Jannik Giger also enlists technology to process existing pieces of music but instead of acoustic collages or samplings, he creates oscillating, hybrid compositions on the cusp between the work of others and his own tonal, rhythmic and vocal set pieces. Just as his studies in music explore the contradiction between synthesis and original, Giger, as author and filmmaker, similarly probes the uncertain distinction between document and fiction. In his short film, Einsiedler (Hermit, 2010), he examines how improvisation can be used as an artistic device to generate immediacy and authenticity, thereby exciting both the empathy and unease of viewers, who begin to question supposedly manifest reality.
Our perception of contemporary documents in contrast to cultural products is the focus of Dominique Koch's inquiry into the fictional content of history. Endnote (2011) is based on the assemblage of footnotes, which Koch has detached from their original context, and converted into a dialogue between two actors. In this way she refers to the construction of history which is always accompanied by parallel narratives and can be understood as the intersection of playback and performance. In her installation Re-Collecting (2011), Koch references the film La vie commence demain (Nicole Védrès, 1949), in which such celebrities as Sartre, Picasso and Le Corbusier play themselves. There she juxtaposes real and utopian worlds as well as social reality and artistic vision.
In her installation Showcasing Today's Essentials (2010) Esmé Valk also addresses idealistic, artistic traditions. She examines what has happened to dreams of ideological modernist living beyond manifestoes and guidebooks for a better life, revealing how they have actually developed in the wake of their commercialization and assimilation in everyday life. The show window, where goods are displayed for sale, appears as the arena of this profanisation. Curtains, carpets and textiles, as more or less accomplished embodiments of modern formal idioms, which lack their ideological underpinnings, allow an ambivalent evaluation when it comes to judging the success and failure of modernist concepts of living. Standardised products of mass consumption, such as grass carpets, three-ply panels, PVC flooring and wall panels, are the materials that go into the making of Jan Kiefer's h.art.ware (2011), a sculptural work that might be read as an abstract portrait of the artist. Out of these materials, found in every household and home improvement store, Kiefer has built containers of the kind used to present goods and products in every DIY store. Recalling the materials used in the home of Kiefer's parents and as prefabricated products familiar to all of us, they seem redolent with personal history while the austerity of the display characterises them again as standardised industrial products. Individuality and personal memory emerge specifically in response to the selection and availability of the building materials.
Katharina Anna Wieser develops her work in confrontation with encountered spatial conditions and the original architectural substance of the exhibition venue. Her approach, initially resembling a construction survey, aims at a precise and conscious artistic intervention. At the Kunsthalle Basel, Wieser makes reference to Ernst Stückelberg's Das Erwachen der Kunst in der Renaissance (The Awakening of Art in the Renaissance, 1877), a mural uncovered and restored during renovations in 2004. Once again she disrupts the view of it and breaks down the symmetry of the architectural space. The perspective is thus repeatedly opened anew, the viewer's standpoint is always renegotiated. An unobstructed view is possible only through movement and proves to be an intersection of what we get and what we catch to see. Meaning lies between what remains of history and what the zeitgeist has to offer. In this respect, Wieser's title not only seem to stands for this specific work but also for both exhibitions, which address phenomena of the times from different perspectives: Das Erwachen der Kunst – jetzt (The Awakening of Art – Now, 2011).
The exhibition 6 Künstler aus Basel x2 was curated by Sandra Bradvic, Roos Gortzak and Adam Szymczyk.