Room Service
22 Mar - 22 Jun 2014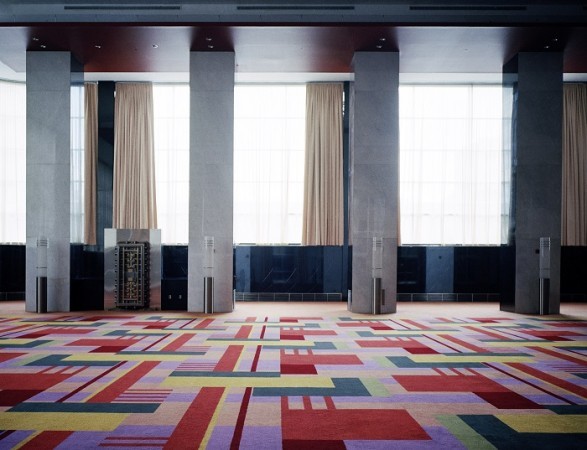 Candida Höfer
Hotel Philadelphia I, 2000, Chromogendruck
Courtesy Candida Höfer und Galerie Johnen, Berlin
ROOM SERVICE
On The Hotel In The Arts and Artists in the Hotel
22 March - 22 June 2014

The Federal State Exhibtion Baden-Württemberg is dealing with the myths that are entwined with the hotel as a semi-public space. Reflecting motifs of desire, it serves as a backdrop for the most intimate occurrences as well as matters of state. Over the past two hundred years the topos of the hotel has increasingly become a subject of artistic interest. Artists have not only examined the hotel as a motif but have appropriated its rooms, decorating and inhabiting them. With the Federal State Exhibition Baden-Württemberg the Staatliche Kunsthalle Baden-Baden traces these multi-faceted relationships over time. The exhibition also examines problematic social aspects of this phenomenon. To capture the mythic dimensions of the hotel, the exhibition Room Service – On the Hotel in the Arts and Artists in the Hotel at the Staatliche Kunsthalle Baden-Baden is also accompanied by an exhibition route that leads through the city's prominent hotels. Numerous artists are presenting works in hotel rooms, lobbies, and parking garages and have in some cases developed these projects specifically for the exhibition.

Historical exhibtion

In the rooms of the Staatliche Kunsthalle Baden-Baden the exhibition traces the historical development of a new culture of travel from the 19th century to the present. The earliest work on view dates from 1824. A work by the British artist John Constable, it shows a beach scene with a fishing boat and the first grand hotels of Brighton, England in the background. During his travels the artist Joseph Mallord William Turner used the interior of hotel rooms as well as the view from the hotel room as a recurring motif. Max Beckmann was fascinated by the various realities and perspectives that came together in the hotel. In contrast, his contemporary George Grosz concentrated on figures from the demimonde of major urban centers, whom he portrayed before the backdrop of pulsing hotels. With his iconic portraits the photographer August Sander created an epochal panoramic view of the German society of his time. Here, one finds images of a hotel director next to those of a chambermaid and a porter. The widely traveled artist Martin Kippenberger ultimately made drawings on hotel stationary his hallmark and thus created a kind of fictive auto-geography. For her work »L'Hôtel« the French artist Sophie Calle assumed the role of a chambermaid, spying on the guests of a Venetian hotel for three weeks.

Hotel Walking Tour

In conjunction with the exhibition walking tour through various Baden-Baden hotels numerous site-specific and performative works are on view. In a room of the Steigenberger Europäischer Hof the performance artist Ann Liv Young offers unique, free therapeutic treatments. In her role as Sherry, a woman from the US South, she provides half-hour »Sherapy« sessions for individuals, couples, or pets . On an audio-guided walk created by the media art and performance collective LIGNA visitors may wander through the hotel corridors on a search for traces of the stories that the hotel holds. In addition, the renowned curator Hans Ulrich Obrist recreates a version of his legendary hotel exhibition from 1993, in which he installed an unannounced exhibition with 70 well-known artists in his 12-meter hotel room. For the new installation in Baden-Baden he has invited artists such as Tracey Emin, Rosemarie Trockel, and Franz Erhard Walther. In the Belle Epoque Andy Warhol's experimental film »The Chelsea Girls« serves as a commentary on the famously infamous Chelsea Hotel in New York, where artistic bohemians of the sixties and seventies lived, worked, and exhibited. A visiting exhibition with selected works from the art collection of the Hotel Castell in Zuoz is on view at the Atlantic Parkhotel. In the fireplace room, a library and film lounge reflect the generous space of the reception area. If you knock on a certain door of a room at this hotel, you will encounter a talkative individual, who is the brainchild of artist Christian Andersson.

Room Service - Highlights

In Brenners Park-Hotel & Spa the US artist Cindy Sherman presents a milieu study of individuals struggling for youthful beauty and social status. Next door is a one-of-a-kind opportunity to spend the night in hotel rooms conceived by artists. As artist in residence at Brenners, Christian Jankowski invites visitors to enter a small room offering a range of options, requiring them to make a personal selection. The empty white space can subsequently take any form—from the simplest standard to the most magnificent opulence. An artist's edition is also included in a night's stay . With his performative installation »Brenners Park Eine-Stunde-Hotel & Service Total« (Brenners Transient Hotel & Total Service) artist Naneci Yurdagül makes the experience of five-star hotel service available to guests within a condensed 60-minute period. Anyone can book and enjoy this offer in a double room for 1/24th of the price of an overnight stay . Artist Gabriela Oberkofler, who grew up in a rural inn, and Hong Kong based artist Lee Kitt have each taken over a room in the Rathausglöckel, transforming these spaces into a walk-in artworks, in which guests can spend the night or from which they can buy a souvenir . All rooms can be viewed during the opening hours of the exhibition, as long as they are unoccupied. At the Radisson Blu Badischer Hof, the Theater Baden-Baden will take up residence in the hotel for a number of evenings, explaining some of the secrets hidden behind closed doors with a production based on Markus Orth's »Das Zimmermädchen« (The Chambermaid) and debating exaggerated wellness strategies at the bar with »Max im Hotel.« To conclude the exhibition, Byung Chul Kim will present an unconventional kind of lodging culture with his performance hotel. Instead of paying for a stay with money, one pays with a performance. Performances will be presented to interested members of the public on a daily basis, beginning at 6:00 pm.

Participating Artists: Michael Ancher, Christian Andersson, Diane Arbus, Max Beckmann, Guy Ben-Ner, Oscar Björck, Jenny Brillhart, Sophie Calle, Henri Cartier-Bresson, Auguste Chabaud, John Constable, Honoré Daumier, Thomas Demand, Simone Demandt, DIS, William Eggleston, Tracey Emin, Hans-Peter Feldmann, Fischli / Weiss, Francis Frith, George Grosz, Andreas Gursky, Eberhard Havekost, Georg Hering, Candida Höfer, Hanns Hubmann, Irène Hug, DAS INSTITUT, Christian Jankowski, Sven Johne, On Kawara, K-Hole, Byung Chul Kim, Lee Kit, Martin Kippenberger, Otto Albert Koch, Peder Severin Krøyer, Christian Krohg, Pierre Leguillon, Ligna, Armin Linke und Elina Axioti, Sarah Lucas, Tobias Madison, Johan Marinus Mari ten Kate, Adolph Menzel, Hans Meyboden, Chantal Michel, Olaf Nicolai, Gabriela Oberkofler, Gabriel Orozco, Paul Riess, Reiner Ruthenbeck, August Sander, Markus Schinwald, Laurits Schmidt-Nielsen, Valdemar Schønheyder Møller, Cindy Sherman, Thomas Schütte, Paul Signac, Roman Signer, Florian Slotawa, Chaïm Soutine, Daniel Spoerri, George Stephenson, William Henry Fox Talbot, Guy Tillim, Ryan Trecartin, Rosemarie Trockel, Joseph Mallord William Turner, Laurits Tuxen, Amalia Ulman, Ian Wallace, Franz Erhard Walther, Andy Warhol, Carl Windels, Ann Liv Young, Naneci Yurdagül, Xu Zhen, as well as Hans Ulrich Obrist with a re-interpretation of his project »Hotel Carlton Palace: Chambre 763« from 1993.