Martin Creed
29 Apr - 25 Jun 2011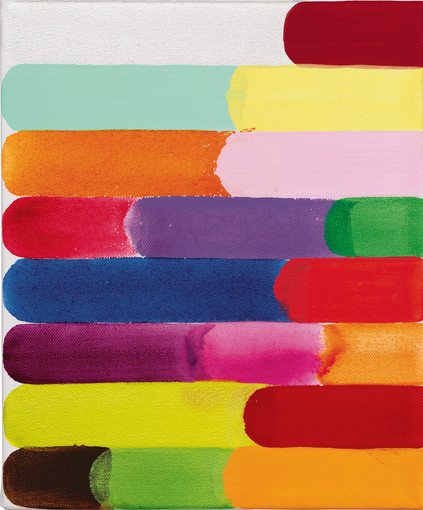 © Martin Creed
Work No. 1193, 2011
Acrylic, enamel, ink, oil and watercolour on canvas
30,5 × 25,5 cm; 12 × 10 in.
MARTIN CREED
Paintings
29 April - 25 June, 2011

On occasion of Gallery Weekend, Johnen Galerie proudly presents the exhibition Paintings by Martin Creed. The works on view, as all other works by the artist who is well-versed in media as diverse as photography, sculpture, film, and music, range between plain and generally understandable structures, and happenstance. The 'genius' creator steps back by – at least theoretically – enabling everyone to make the work following his instructions which makes this work deeply democratic and leaves room for play, practice and selection. Some of the small canvases are densely packed with horizontal, intertwining brushstrokes, others show stair-like stacks of different strokes or zig zags of all shades of colors. His palette reaches from primary or non-colors such as red or black on white ground to color compositions of a wide spectrum. It seems as if each stroke was applied to the canvas with a different beat and timbre. The pictures attest often to a joyful lightness but are always objective reflections about art and thus lead the viewer far beyond the field of abstract painting. Martin Creed was born in 1968 in Wakefield, UK. From the age of three he lived in Glasgow, Scotland. Between 1986 and 1990 he studied at the Slade School of Fine Art, London. In 2001 he was awarded the Turner Prize. Martin Creed currently lives and works in London and Alicudi, Italy.