Selections from The Hammer Contemporary Collection
03 Jul 2010 - 30 Jan 2011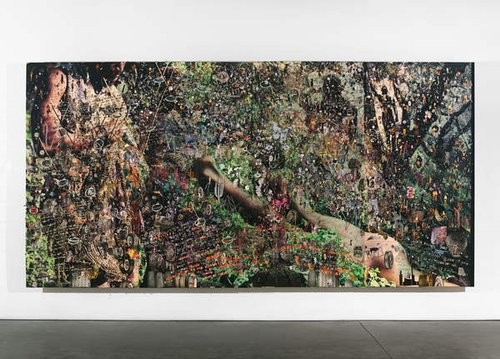 © Elliott Hundley
Pentheus, 2010
Sound board, wood, inkjet print on kitakata, paper, photographs, pins, plastic, metal, glue, magnifying glasses
96 x 192 x 19 1/2 in
Hammer Museum, Los Angeles. Purchase.
SELECTIONS FROM THE HAMMER CONTEMPORARY COLLECTION

July 3 - January 30, 2011

In 2005 the Hammer launched an initiative to build a collection of contemporary art through both purchases and gifts. Recognizing the variety of media that contemporary artists employ, this growing collection of nearly 1500 works includes drawings, photography, sculpture, painting, film and video. In an effort to reflect the museum's history of exhibitions, many artists represented in the collection—and whose work is on view in this exhibition—have participated in our Hammer Projects series, one of our biannual Hammer Invitational exhibitions, or in a monographic or thematic exhibition presented at the Hammer. With the goal of collecting in depth while continually broadening the collection, our focus has been on the acquisition of key works by influential artists from World War II to the present moment, paying particular attention to work made in Southern California. This is the third exhibition of works from the Hammer Contemporary Collection, highlighting recent acquisitions and works that have never been exhibited in Los Angeles.

This new installation of the Hammer Contemporary Collection features approximately 42 significant additions to the collection by Mel Bochner, Mark Bradford, Llyn Foulkes, Evan Holloway, Monica Majoli, Charles Ray, Frances Stark, Alina Szapocznikow, and Gillian Wearing, among others. Several of the works have never been seen in Los Angeles, such as Paul Chan's multi-channel video Sade for Sade's Sake, (2009), which debuted at the 2009 Venice Biennale and Kara Walker's 20-part painting installation, Every Painting Is a Dead Nigger Waiting to Be Born (2009). The Hammer Contemporary Collection relies on contributions and gifts of art from the Hammer Board of Overseers and other generous donors. In addition to museum purchases, Selections from the Hammer Contemporary Collection features some of these significant donations, including promised gifts from Tony and Gail Ganz, Susan and Larry Marx, and Susan Bay Nimoy and Leonard Nimoy.

The exhibition is organized by Ali Subotnick, curator; and Corrina Peipon, curatorial associate.