Oranges and Sardines
09 Nov 2008 - 08 Feb 2009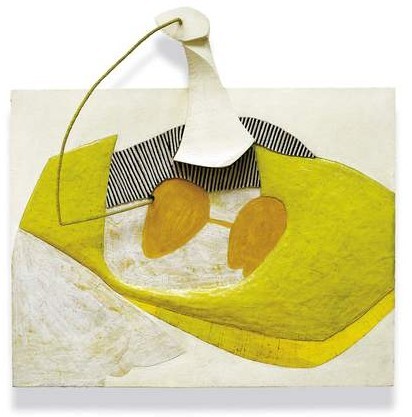 © Eva Hesse
H+H, 1965
Varnish, ink, gouache, enamel, cord, metal, wood, papier-mâché, unknown modeling compound, particle board, wood
27 x 27-1/2 x 4-7/8 in. (68.6 x 69.9 x 12.4 cm)
Ursula Hauser Collection, Switzerland. © The Estate of Eva Hesse. Hauser & Wirth Zürich London
ORANGES AND SARDINES
Conversations on Abstract Painting

November 9 - February 8, 200

Oranges and Sardines: Conversations on Abstract Painting with Mark Grotjahn, Wade Guyton, Mary Heilmann, Amy Sillman, Charline von Heyl, and Christopher Wool

The title for the exhibition is borrowed from American poet Frank O'Hara's poem Why I Am Not a Painter, which reflects on the elusiveness of the creative process, often resulting in a finished work that bears no resemblance to its initial inspiration. Oranges and Sardines hopes to offer manifold examples of abstraction's inventive potential and will suggest varied reasons why it remains vital and essential to contemporary art. Similarly, the works of the six artists who have developed the exhibition may be viewed with more complex appreciation and more insightful understanding.
Oranges and Sardines will be accompanied by a catalogue that will include an introductory essay by the curator and extended interviews with each of the artists. All the works in the exhibition will be reproduced in full-page color, and additional works will be reproduced in tandem with artists' interviews.

About the Exhibition
By Gary Garrels

This exhibition approaches art through the eyes and minds of artists. As a curator I have found that artists look at art with a focus and scrutiny, a criticality and level of engagement that few of us are able to summon with the same intensity. Working with the six artists who have made this exhibition with me, I have been struck more than ever by the particularity of artists' visions. The general does not suffice; the specific matters intensely—a selection of subject, a choice of material or color, a way of making a mark or placing a gesture onto a canvas, a determination of the appropriate scale of an object (and larger does not necessarily mean better or more important). Artists also acknowledge the importance of how and when a work of art was first encountered, that the circumstances of seeing and experiencing a work of art may be as important as the object itself. As well artists are singularly aware of how fundamentally a work of art is joined to the life of its creator, that within these objects are embedded experiences that may forever be unknown to the outside observer. Yet these experiences are crucial to how and why an object was made and to the final visual presence of the object.
This exhibition is a testament to the persistence of the visual art object and particularly abstract painting. It is a reckoning with an abiding question: what is the necessity of a work of art? Abstract painting amplifies this question a hundredfold. What is the claim of abstract painting to our attention, to our lives? Why should it continue to persist a century after its emergence?
Six contemporary abstract painters each have been asked to select one or two of their own recent paintings to be shown with works by other artists who have had a significant impact on their thinking and the development of their own work. The artists' choices were winnowed through many conversations I had with each of them, discussing the issues of their work, their studio practice, their appraisal of art history, and the contemporary situation of art. Throughout this process a distinct distillation of choices developed for each artist that is wide ranging but particular: both figurative and abstract works have been chosen, sculptures and some works on paper have been selected in addition to paintings, and historical as well as more contemporary works have been juxtaposed. Each artist has been given a generous gallery in which to present these works, and the choices were made in part to engage in a visual "conversation," to form a constellation of objects that could reflect back and forth onto one another.