When There Is Hope
19 Jun - 13 Sep 2015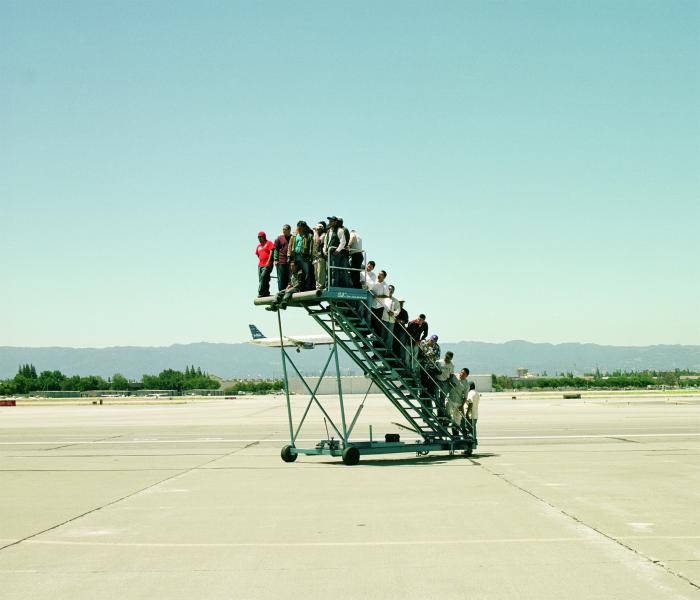 Adrian Paci
Centro di Permanenza temporanea, 2007
C-Print auf Aluminium Dibond
127,5 x 147 cm
Sammlung Deutsche Bank
© Courtesy the artist, Galerie Peter Kilchmann, Zurich, kaufmann & repetto, Mila
WHEN THERE IS HOPE
Triennial of Photography Hamburg 2015
19 June – 13 September 2015

As part of this year's Triennial of Photography Hamburg, the Hamburger Kunsthalle is presenting around 100 works by internationally acclaimed artists in the exhibition WHEN THERE IS HOPE. Photography, for all its claim to reality and authenticity, can also communicate hopes, dreams and desires. In contemporary art, above all, photographic images are often used to depict socio-political upheavals or document global developments. At the same time, photography – whether it takes the form of a collage, a staged scenario or a reconstruction – has become the most important medium in the quest for identity and the pursuit of hopes and utopian ideals. The exhibition sets out to address these ambivalent and sometimes very controversial aspects of the "principle of hope" in the realm of contemporary photography.

Identity and emigration have become central themes of many artists' work in recent years, often as a direct result of their personal experiences. Among these are the Moroccan artist Yto Barrada (*1971), who is currently based in Tangier, and the Albanian-born photographer and video artist Adrian Paci (*1969). Both have taken their own situation as the starting point for a fundamental examination of refugee policy and issues related to migration. Photography can also combine the memory of something that has been lost with the hope for change or a new beginning. The French artist Annette Messager (*1943), for example, presents images of desire and physical reality in Mes Voeux (1988), an installation of 250 black-and-white photographs that recalls a display of votive offerings.

The exhibition is accompanied by a booklet (€6) published by Triennial of Photography Hamburg. On the occasion of the Triennial there is also an exhibition catalogue with contributions of the participating museums and exhibition spaces. It can be purchased for €38 in the museum shop.

Participating artists include Yto Barrada (*1971), Zohra Bensemra (*1968), Mohamed Camara (*1985), Cao Fei (*1978), Carlos Garaicoa (*1967), Nan Goldin (*1953), Shilpa Gupta (*1976), Roni Horn (*1955), Astrid Klein (*1951), Eva Leitolf (*1966), Almut Linde (*1965), André Lützen (*1963), Annette Messager (*1943), Rivane Neuenschwander (*1967), Roman Ondák (*1966), Adrian Paci (*1969), Anri Sala (*1974), Dayanita Singh (*1961), Clemens von Wedemeyer (*1974)

With loans from Deutsche Bank Collection, as well as from galleries representing the participating artists. Friedhelm Hütte, Global Head of Art, Deutsche Bank: "We are delighted to support the Hamburger Kunsthalle in this project both as a sponsorand as a lender of artworks. Since 1979, Deutsche Bank has built up one of the world's leading collections of contemporary artworks on paper and photography.The substantial loans we have made available for WHEN THERE IS HOPE enable us to make the breadth and depth of contemporary art available to a broad public, just as we do internationally in our own exhibitions and on our premises."