Man Son 1969
23 Jan 2009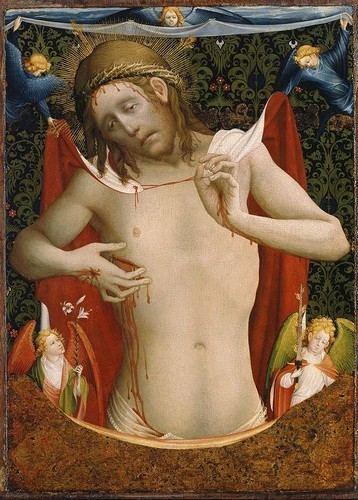 Meister Francke
Christ as the Man of Sorrows, around 1435
© Hamburger Kunsthalle / bpk
Photo: Elke Walford
MAN SON 1969
The Horror of the Situation
30 January to 26 April 2009
Galerie der Gegenwart
1969 or the ambivalence of extremes
The exhibition MAN SON 1969. The Horror of the Situation explores the lure and danger of extremes. It takes as its starting point a series of historical events in aesthetics and politics, lifestyle and counterculture in the 1960s, the significance of which is a subject of continuing heated debate. Twenty international contemporary artists have been invited to look back at the events of 1969 and contribute new works that articulate the ambivalence of extremes in that era of far-reaching social transformation. These contemporary positions will be juxtaposed with three paintings from different historical eras, including Master Francke's Christ as the Man of Sorrows and George Grosz's John the Sex Murderer. Charles Manson, a central figure of American hippie culture, is believed to have instigated the murders of Sharon Tate and six other people, a crime for which he is currently serving life in prison. As the subject of intense and controversial media interest, the name and persona of Charles Manson provide a framework for the context of the exhibition as a whole.
The middle of the twentieth century was marked by colonial conflict and liberalisation on a worldwide scale. The unprecedented war in Vietnam gave rise to a massive protest movement across Europe and America that sought not only political change but also new, more liberal ways of life. The year 1969 above all was a time of strong contradictory tendencies in society as a whole and particularly in protest culture. Notable events during that year included not only the first moon landing on 20 July but also the sudden change in public opinion on the Vietnam War.
The brutal murders committed by the so-called 'Manson Family' in Hollywood on 9 and 10 August 1969 shocked the media-consuming public. The friendly and peaceful mood that surrounded the Woodstock festival, held from 15 – 18 August 1969 in New York State, was shattered by the tragic death of a man on 6 December during the Rolling Stones' performance at a rock festival in Altamont/California. To many people, 'flower power' no longer seemed to represent just an innocent desire for peace. In a parallel development, the Western student movements also became more radical during this period.
In November 1969, some of the future RAF (Red Army Faction) terrorists fled from Germany to Paris. While their initial acts of violence were aimed at property, this later escalated into murder. Seen from this perspective, the situation in America and Germany in 1969 was a tightrope walk, during which some alternative life scripts and social utopias were turned into the violent opposite of what was initially intended, while others failed completely or were adapted to suit the circumstances. Self-fulfilment, creativity and flexibility – which in those days were bywords for an individualised mode of living – have today become buzzwords used to promote a much-cited 'new spirit of capitalism'.
The invited artists examine the theme of the exhibition – the ambivalence of extremes around 1969 – from a contemporary point of view and touch only marginally upon the figure of Charles Manson and the events surrounding him. They develop a variety of different perspectives, focussing for example on the consideration of group formation as a dialectic of freedom and constraint, the analysis of manipulation, education and conformity, the musical background of the period or the creation of myths as a quasi-religious phenomenon.
The title of the exhibition is borrowed from Manson himself, whose portrait appeared on the cover of Life Magazine in 1969 and who remains a subject of media interest and debate to this day. For around two and a half years – from late 1967 until 1969 – Manson lived with his so-called 'family' in a kind of rural commune in California. He is believed to have incited the murders of Sharon Tate and at least six other people in Hollywood. He justified these actions with a paranoid, imagined threat of a race war he called 'Helter Skelter' after the Beatles song of the same name. Following a six-month manhunt, Manson and five of his followers were sentenced to death for mass murder. Due to the temporary abolition of the death penalty in California (1972–1977), however, the sentence was commuted to life imprisonment with no possibility of parole. Manson is currently detained in the maximum security Corcoran State prison in California. The term 'Man Son' is a variant spelling Manson himself used for a time.
The exhibition opens with three paintings from three different eras. A medieval 'man of sorrows' and a modernday depiction of a sexually motivated murder from the collection of the Hamburger Kunsthalle are presented here alongside a contemporary position that revisits both of these themes.
Master Francke's devotional picture Christ as the Man of Sorrows was painted around 1435. It portrays the religious motif of the Passion of Christ as an expectation of death. The heightened rendition of pain, Eros and death can be interpreted as an expression of sacrifice and at the same time as a vision of redemption. As a clear allusion to Jesus, the biblical term 'man son' (i.e. the son of man) relates closely to the Passion of Christ.
In his painting John the Sex Murderer from November 1918, George Grosz (1893–1959) transforms the motif of Eros and Thanatos into an imaginary murder. Despite the different interpretations of this painting, Grosz's formal vocabulary is generally perceived as a criticism of the social and political conditions of the Weimar Republic. His work and critical approach has had a profound influence on other artists, including the American painter Joe Coleman.
With his meticulous brushwork and wildly imaginative depictions of violence, Joe Coleman, who was born in 1955 in Norwalk/Connecticut, recalls traditions of burlesque painting. He paints portraits of – among others – mass murderers and public enemies from American history such as Charles Manson. Coleman's work is specifically inspired by the mentality which prevailed in the Weimar Republic and which he also discerns in present-day America – a mixture of decadence and the horrors of war.
These examples from three different eras respond to the horror of the situation in different ways. In the medieval painting it is associated with the individual's hope for salvation, whereas Grosz's artistic efforts at the time of the First World War were aimed at achieving social change in this world. Coleman's criticism, on the other hand, is expressed through 'fine painting' worthy of the old masters combined with humour and a sense of the grotesque. The juxtaposition of historical and contemporary positions reveals intersecting avenues of logic, parallels and contradictions between events in Europe and the United States; it would therefore seem worthwhile to take a fresh look at the 1960s and their subsequent impact.
The exhibition features artists from several generations, including:
Mario Asef, Max Beckmann, Joseph Beuys, Achim Bitter, Günter Brus, Joe Coleman, Lutz Dammbeck, Dellbrügge & de Moll, Bogomir Ecker, Martin Eder, Bob Flanagan/Sheree Rose, Meister Francke, Peter Friedl, Till Gerhard, Douglas Gordon, Dan Graham, George Grosz, Rudolf Herz, Elmar Hess, Jenny Holzer, Andreas Hofer, Laura Honse, Franka Hörnschemeyer, Stephan Huber, Stefan Hunstein, Ilya Kabakov, Edward Kienholz, Susanne Klein, Elena Kovylina, Thomas Kunzmann, Sigalit Landau, Almut Linde, Teresa Margolles, Josephine Meckseper, Stefan Micheel, Aurelia Mihai, M + M, Ronald Nameth, Bruce Nauman, Rotraut Pape, Karin Missy Paule, Susi Pop, Astrid Proll, Chris Reinecke, Annamaria und Marzio Sala, Gregor Schneider, Dennis Scholl, Andreas Seltzer, Richard Serra, Cindy Sherman, Die Tödliche Doris, Susanne Weirich, Günter Zint.
A website and a catalogue will be published to accompany the exhibition. Along with comprehensive information on all the artistic contributions, it will include essays by Bommi Baumann, Truman Capote, Ursula Cyriax, Belinda Grace Gardner, Gunnar Gerlach, Tom Kummer, Jan Metzler, Astrid Proll, Susanne Pfeffer and Nora Sdun, as well as an introduction by Frank Barth and Dirck Möllmann. The catalogue is available from the museum shop for EUR 9. For further information:
www.hamburger-kunsthalle.de/manson
.
Curators of the exhibition: Frank Barth, Dirck Möllmann