Beverly Hills 20 - Year Anniversary Invitational Exhibition, 1995–2015
30 Oct - 19 Dec 2015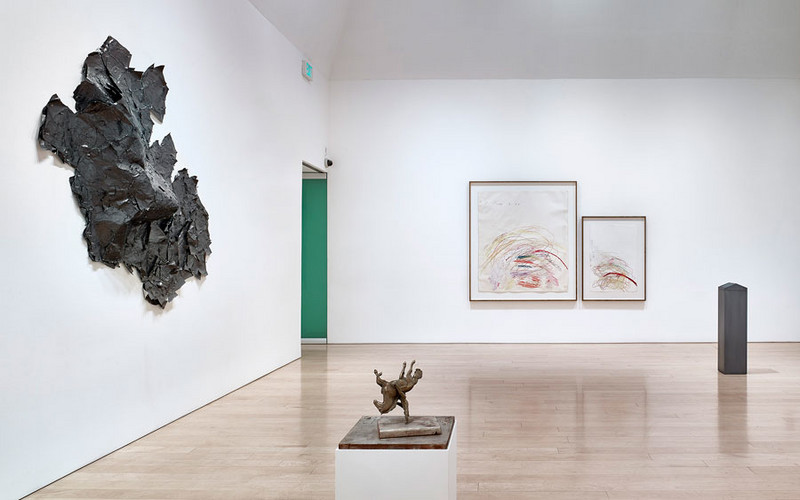 Beverly Hills 20-Year Anniversary Invitational Exhibition, 1995–2015
Installation view
Photo by Douglas M. Parker Studio
BEVERLY HILLS 20-YEAR ANNIVERSARY INVITATIONAL EXHIBITION, 1995–2015
30 October – 19 December 2015

To mark the twentieth anniversary of Gagosian Gallery Beverly Hills on North Camden Drive, founder Larry Gagosian has selected a special exhibition of works by more than thirty artists spanning three generations.

Born in Los Angeles, Gagosian opened his first galleries on Almont Drive and Robertson Boulevard in the early 1980s. Chris Burden and Jean-Michel Basquiat were among the first artists to be exhibited. Drawing on the city's abundance of talented artists, Gagosian was at the forefront of developing a bicoastal model for contemporary art galleries—the beginning of a global expansion that now numbers fifteen galleries in three continents—when he moved to New York in 1985 and opened his first gallery there, in collaboration with Leo Castelli.

Los Angeles provided both artists and galleries with an ideal infrastructure for creating and exhibiting diverse bodies of artwork, sometimes on a very large scale, and in 1995 Gagosian Gallery Beverly Hills, designed by acclaimed American architect Richard Meier, opened with new sculptures by Frank Stella. A major exhibition in homage to Castelli's legendary gallery followed, which brought together works by artists including Jasper Johns, Ellsworth Kelly, Roy Lichtenstein, and Bruce Nauman. The program continued to evolve with a survey of Basquiat's paintings and drawings (1998); Lichtenstein's Nudes (1998); Andy Warhol's iconic Camouflage Paintings (1999); and Alexander Calder's Mobiles (2003), among many other exhibitions.

In 2010, the expansion of the Beverly Hills gallery into the next-door building to create a second light-filled space of equal scale—again designed by Meier—enabled even more ambitious programming, with major exhibitions by Urs Fischer, Andreas Gursky, Jeff Koons, Giuseppe Penone, Richard Prince, Ed Ruscha, Richard Serra, and Taryn Simon, among others. The career-spanning survey "Avedon: Women" (2013) was the first exhibition of Richard Avedon's photography in Los Angeles since 1976.

At Gagosian's much-anticipated "Oscar show," an annual fixture in the Los Angeles cultural calendar, the art, film, and celebrity communities rub shoulders prior to the Academy Awards ceremony. To date, these include Cindy Sherman's photographic self-portraits (2000); Richard Prince's Check Paintings (2005); Andreas Gursky's Ocean photographs (2010); Ed Ruscha's Psycho Spaghetti Western still-life landscape paintings (2011); Urs Fischer's dramatic and droll sculptural installations (2012); and, most recently, John Currin's oil paintings of perverse libertine fantasies (2015).

From Damien Hirst's black-sheep vitrine (2009) to Robert Therrien's enigmatic No title (blue bow) (2015) to Nancy Rubins's sculptural graphite Drawing (2015) to other new works by Thomas Houseago, Sterling Ruby, Rudolf Stingel, and some of more than thirty participating artists, the twentieth anniversary exhibition celebrates the gallery's richly diverse international program in the city where it all began.