The Future Begins Here
16 Nov 2013 - 27 Apr 2014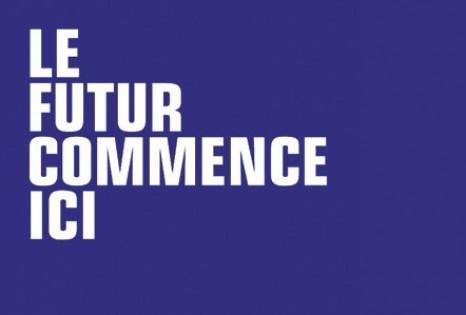 SUPERFLEX, Copy Right (Colored version), 2007
© ADAGP 2012, Courtesy Nils Staerk Contemporary Art Gallery. Collection FRAC Nord-Pas de Calais
Photo: The Aarhus Art Building / Jens Møller-Sørensen
THE FUTURE BEGINS HERE
16 November 2013 – 27 April 2014

The inaugural exhibition "The Future Begins Here" is an opportunity for visitors to discover the Frac Nord-Pas de Calais collection. This collection, which joins contemporary art and design, includes more than 1,500 works acquired since the 1980s and mixes works by major artists with others by young talents.

The architecture designed by the Lacaton & Vassal agency is the jewel case in which the first exhibition by Frac Nord-Pas de Calais in its new building is set, where visitors will be plunged into its collection.

Together, the spaces in the FRAC/AP2 – passageways, exhibition galleries, outreach spaces, indoors and out – are also the pretext for the presentation of projects and installations, in some cases produced especially for the occasion. Matthew Darbyshire is taking over the Salon, providing visitors with a space of relaxation and discovery; Otto Berchem questions visitors about the Frac's collection; Rainier Lericolais invites them on an audio promenade between the LAAC and the Frac, a veritable poetic ramble and free interpretation of the region's history; and Angela Bulloch uses the wind to light up the AP2 hangar. Even the Frac's café will become a work of art in its own right thanks to the artistic duo Lang/Baumann.

The exhibition "The Future Begins Here"takes place throughout the entire Frac/AP2 building. Each space presents a theme or group of work found in the collection: videos, the relation between art and design, participative works. Visitors will discover at every turn – in a corridor, a salon, an exhibition gallery – a true survey of contemporary art of these past thirty years.
Featuring
Saâdane Afif, John Armleder, Otto Berchem, Walead Beshty, Angela Bulloch, Andre Cadere, Claude Courtecuisse, Anne Collier, Matthew Darbyshire, Dejanov et Heger, Angela de la Cruz, Marcel Duchamp, Sam Durant, Latifa Echakhch, Dan Flavin, Peter Friedl, Didier Fiuza Faustino, Piero Gatti, Cesare Paolini, Franco Teodoro, Martí Guixé, Isabell Heimerdinger, Georg Herold, Fabrice Hyber, Donald Judd, Scott King, Gabriel Kuri, Lang/Bauman, Rainier Lericolais, Antonia Low, Ari Marcopoulos, Mathieu Mercier, Philippe Meste, Olivier Mosset, Bruce Nauman, Gerhard Richter, Gabriel Sierra, Markus Sixay, Superflex, Rirkrit Tiravanija, Rosemarie Trockel, Gavin Turk, Daan Van Golden, Barbara Visser, Lawrence Weiner, Franz West, Andy Warhol, Christopher Wool, Lorena Zilleruelo.