Eric Baudelaire
22 Jun - 27 Jul 2007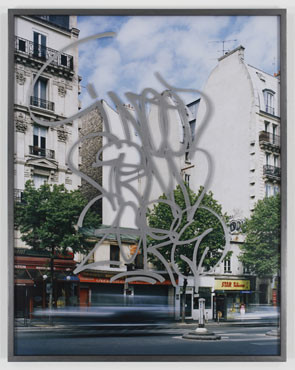 © ERIC BAUDELAIRE
Blind Walls, (I Need), 2007
C-print, Plexiglas, graffiti
47.25 x 37 inches (120 x 94 cm)
ERIC BAUDELAIRE
"Circumambulation"

Elizabeth Dee Gallery is pleased to announce the debut New York solo exhibition of work by Eric Baudelaire. Circumambulation is conceived as a continuation of ideas Baudelaire has been exploring for the past several years concerning the relationship between images and events—transformative political events that, in their immediate aftermath, are already reconstructed. Such events become fables in a process that Gilles Deleuze describes (in The Logic of Sense) as producing "strange resonances with our own affects and private or common traumas, making them pre-personal and pre-individual."

The show expands upon concepts first presented in the large-scale diptych The Dreadful Details, a tableau of the current Iraq war re-enacted on a Hollywood film stage that was exhibited at Elizabeth Dee Gallery in 2006.

Whereas The Dreadful Details examines historic representations of battle as a collage of established clichés, the images presented in Circumambulation explore the ambiguity that follows a profound "event" like September 11th and the duality of time experienced in its wake, "a time" described by philosopher Pierre Zaoui "which contracts and expands and must be reflected upon in the hope of escaping its haunting."

Contemplating the meaning and lack of meaning not only of this event, but also in the attempt to create a trace of it, and the linked times of its capture and of its loss, Baudelaire creates a space, identified by Zaoui, where images attempt to elucidate September 11th in terms of what it has left us with, "almost nothing: a Ground Zero that is an empty space, a suffering that is either repressed or expressed but is devoid of images; and at the same time, a necessity to understand this event in terms of what it announces: possibly the daily experience of terrorist violence, where terror borders indifference, where hatred looses its object as it multiplies, where war can no longer be thought of outside of its staged nature, where image is only a witness to what is no longer there."

Although Baudelaire was living in New York during September 11th, these image-based meditations on its aftermath are situated in Paris, where the artist has made his home for the past four years.

Photographs of Parisian façades that appear strangely two dimensional—isolated moments where architecture seems interrupted—are spray painted with graffiti phrases that articulate frustrations and proclamations elicited by another architectural void. A large video projection places us in the "Porte d'Erewhon" subway station (the name an anagram of nowhere borrowed from Samuel Butler's novel about an island where time has stalled) where we observe the unfolding depiction of a violent explosion mediated by time, presented as advertisement, and rendered as a perfect ambiguity. The installation is bracketed by wall-sized photographs of a highway underpass being reclaimed by natural forces and is anchored by the presence of posters printed with Da Vinci's didactic instructions for painting a battle scene. In this environment, we are left to construct our own narratives in an attempt to reconcile the legacy of an event that continues to lie beyond our capacity to do so.

Eric Baudelaire's work was included in Elizabeth Dee Gallery's four person exhibition Adrian Piper, Eric Baudelaire, Josephine Meckseper, Wayne Gonzales in December 2006 and is currently on view at the Centre Pompidou in an exhibit of recent acquisitions. He has had solo exhibitions at the Musée de la Photographie in Charleroi, Belgium and the Galeria Juana de Aizpuru, Madrid. In 2005, he was the recipient of the prestigious HSBC prize for photography.