Josiah McElheny
05 Sep - 03 Oct 2008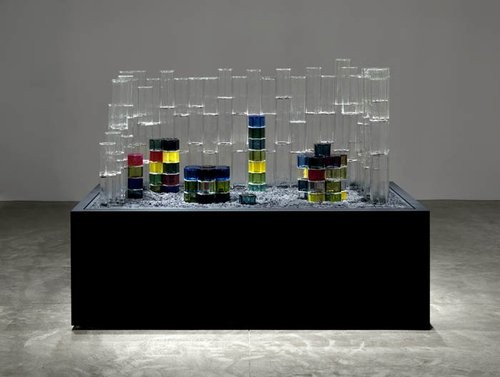 ©
Model for a Film Set (The Light Spa at the Bottom of a Mine), 2008
Colored glass modules, cement, wood
37 x 37 1/2 x 68 inches (94 x 95.3 x 172.7 cm)
JOSIAH MCELHENY
"The Light Club of Batavia "

** FOR IMMEDIATE RELEASE **

September 5 - October 3, 2008

The Donald Young Gallery is pleased to present an exhibition of sculpture and video by Josiah McElheny. In 1912 the German fabulist Paul Scheerbart published a short story in the critical journal Fruchlict that tells the story of an ambitious woman's unlikely plans for an underground light spa--a refuge for a modern illness she calls "Light Hunger." Her plan is realized by a motley crew of architects, artists, and foreign patrons after many long-winded speeches and romantic pledges; "Das Lichtklub von Batavia" (The Light Club of Batavia) is a melodramatic tale that on its surface is a "Ladies Novelette" but at its heart is a critique of the conditions of the modern age.
This obscure story inspired McElheny's sculpture Model for a Film Set (The Light Spa at the Bottom of a Mine), which was originally shown at the Orchard Gallery in New York. Constructed of colored glass modules stacked and mortared, it is McElheny's abstract envisioning of the wondrous architectural installation described in Scheerbart's tale.
In Light Club, a collaborative film made by McElheny and filmmaker Jeff Preiss, 16mm footage of elements of McElheny's sculpture taken with a variation of Preiss's signature 'spring wound' technique (a panning/rotating shot), creates the image of cascading glass--a repeated descent into light and darkness. It was inspired by a variety of earlier experiments, not least Stan Brakhage's iconic The Text of Light (1974), and is over one hour long, with voiceover readings by Martin Beck, Andrea Geyer, Ulrike Muller, and Claudia Steinberg.
McElheny commissioned the first English translation of Scheerbart's story (by Wilhelm Werthern and Brian Currid), and critical reinterpretations by Gregg Bordowitz, Andrea Geyer, and Ulrike Müller. These texts, along with his own interpretative text, and a 1912 essay on Scheerbart's writing translated by Barbara Schroeder, form McElheny's artist book that will be available at Donald Young Gallery as part of the exhibition.
McElheny was awarded a MacArthur Fellowship in 2006. Solo exhibitions include the Isabella Stewart Gardner Museum, Boston, The Henry Art Gallery, Seattle, the Centro Galego de Arte Contemporanea in Santiago de Compostela, Spain, and recently the Moderna Museet, Stockholm.