Tell It To My Heart
22 Jun - 08 Sep 2013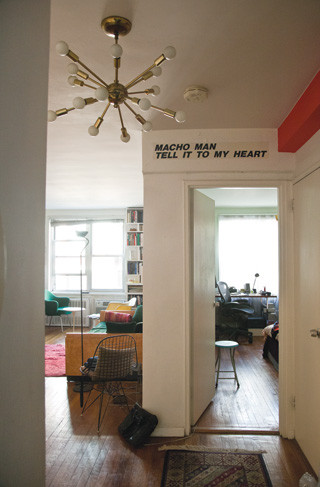 Steven Evans. Macho Man, Tell It To My Heart, 1989
Oferta do artista a Julie Ault, 1992 · Fotografia: Heinz Peter Knes
Reunido por Julie Ault
22 June - 8 September 2013

Curators: Julie Ault, Martin Beck, Nikola Dietrich, Heinz Peter Knes, Jason Simon, Danh Võ e Scott Cameron Weaver

This exhibition brings together a wide selection of works from the collection of the artist, curator and writer Julie Ault, whose practice has been deeply rooted in different forms of collaborative activity. In 1979, Julie Ault was a co-founder of Group Material, an artist collective with a changing cast of members (Doug Ashford, Felix Gonzalez-Torres and Tim Rollins, among others, have all belonged to it) and which, until the group disbanded in 1996, explored the relationship between art, activism and politics. Many of the works in her collection are gifts from artists with whom she has maintained an ongoing discourse. This exhibition is conceived and organised collaboratively by a group of artists and curators, including Julie Ault. The collection includes works by artists such as Felix Gonzalez-Torres, Corita Kent, Andres Serrano, Wolfgang Tillmans, Nancy Spero, Roni Horn, Danh Võ and Martin Beck, among many others. Also forming an integral part of this project is an extensive film programme, conceived by Jason Simon and presented in the small auditorium.
The exhibition Tell It To My Heart: Collected by Julie Ault is a co-production with the Museum für Gegenwartskunst Basel.