"Material Traces"
Track Focus by Julian Göthe
10 Nov 2017 - 03 Feb 2018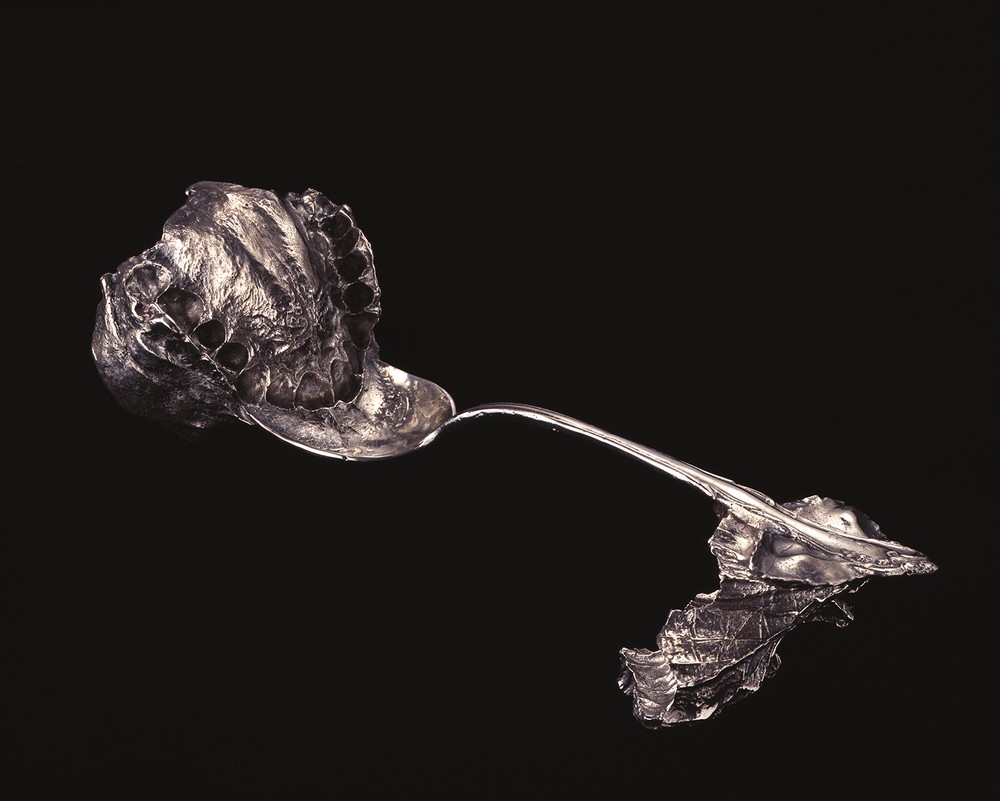 Janine Antoni - Umbilical, 2000
Cast sterling silver of family silverware and negative impressions of artist's mouth and mother's hand
Edition of 35 + 5 APs + FP, 8 x 3 x 3 inches (20.32 x 7.62 x 7.62 cm)
Photographed by John Bessler
© Janine Antoni; Courtesy of the artist and Luhring Augustine, New York.
"MATERIAL TRACES"
Track Focus by Julian Göthe
10 November 2017 – 03 February 2018

curated by Felicitas Thun-Hohenstein

KünstlerInnen: Janine Antoni | Lynda Benglis | Thomas Brinkmann | Katrina Daschner | Carola Dertnig | Julian Göthe | Barbara Hainz | Barbara Kapusta | Kris Lemsalu | Roberta Lima | Anja Manfredi | Dorit Margreiter | Constanze Schweiger | Hans Weigand | Ingrid Wiener

Die Gruppenausstellung 'Material Traces' zeigt, entlang eines Track Fokus von Julian Göthe, die Eigensinnigkeit mit der Materialität in künstlerischen Verfahrensweisen, in sich, sowie in Beziehung zu Medialität, technischem Übertrag und körperlicher Geste agiert- und reagiert.

Verfolgt werden in der Schau, im Zusammenspiel von Werken internationaler KünstlerInnen, jene Spuren ästhetischer Produktion, die nicht mehr als ausschließlich von Menschen gemacht, sondern durch die widerständige Materialität und Eigendynamik der Dinge und den Gebrauch von Technik beeinflusst sind.

Traditionelle Kulturtechniken wie Gobelin, Keramik, Stickerei oder Holzschnitt treffen dabei auf Immaterielles und Experimentelles im Zeitalter des Digitalen.

Auf diese Weise entstehen »"Verse unter Umständen", in denen das politische Potential von Materie als Verdichtung der Fähigkeit zu reagieren und zu antworten, erkannt wird.

Janine Antoni, Lynda Benglis, Thomas Brinkmann, Katrina Daschner, Carola Dertnig, Barbara Hainz, Barbara Kapusta, Kris Lemsalu, Roberta Lima, Anja Manfredi, Dorit Margreiter, Hans Weigand, Ingrid Wiener.