Pavel Pepperstein
02 - 28 Feb 2011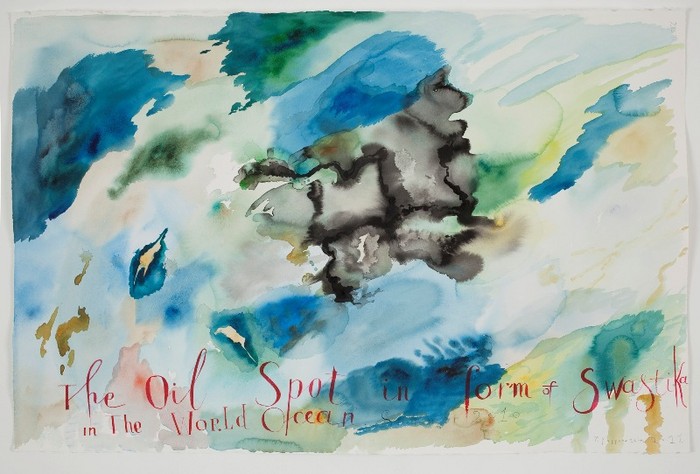 © Pavel Pepperstein
Untitled, 2011
From the series The Gulf of Mexico oil spill disaster
Watercolour on paper
66 x 101 cm / 26 x 39.8 inches
PAVEL PEPPERSTEIN
Leviathan
2 - 28 February 2011

Sutton Lane is pleased to present Pavel Pepperstein's fourth solo exhibition at the gallery. On view is a new series of watercolours The Gulf of Mexico oil spill disaster exhibited alongside works from the series Bikini 47 created in 2001.

The Gulf of Mexico oil spill disaster series makes reference to the recent BP oil spill. The depictions of the ocean are fused with mythological figures and motifs associated with Suprematism.

Iconic signs from Russian art movements and political symbols are here re-enacted and set in the context of contemporary events. Abstract geometric forms such as Malevich's black square and a Satyr from Greek mythology are being appropriated and layered with the narration of the recent oil spill crisis. The juxtaposition of signs and symbols, the use of cultural quotations and surrealist strategies are recurrent themes in Pepperstein's work.

The critical engagement with contemporary culture and society is also present in the series Bikini 47 which refers to atomic bomb tests that the US conducted in the Pacific Ocean in the 1940s and 50s.

Pavel Pepperstein lives and works in Moscow. His work is included in the upcoming presentation Strictly Global at Deutsche Bank Collection, Frankfurt. He was selected for the Russian Pavilion and participated in the group exhibition Making Worlds curated by Daniel Birnbaum both at the Venice Biennial 2009. His work has been the subject of numerous solo and group exhibitions, such as the First Moscow Biennale of Contemporary Art, the Valencia Biennale, the Moscow Conceptualists at the Kupferstichkabinett, Berlin; Berlin / Moscow at Martin-Gropius Bau in Berlin; Kunsthaus Zug, Switzerland and the Neuer Aachener Kunstverein, Germany; and Kunsthalle Dusseldorf, Germany. His work forms part of the Georges Pompidou Museum collection, the collection of Kunstmuseum Liechtenstein in Vaduz, the Simon De Pury collection, the collection of the Teylers Museum in Haarlem Netherlands and the Moscow Museum of Contemporary Art collection.