Death by water. Death by fire.
17 May - 22 Jun 2013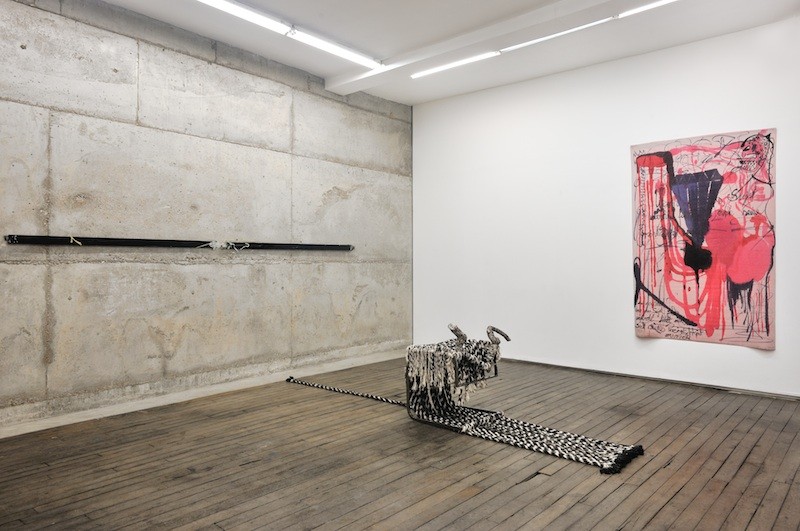 Lucy Dodd / Jutta Koether / Nora Schultz / Viola Yesiltac
Death by water. Death by fire.
Curated by David Lewis
Installation view
17 May - 22 June 2013
Campoli Presti, Paris
DEATH BY WATER. DEATH BY FIRE.
Lucy Dodd / Jutta Koether / Nora Schultz / Viola Yesiltac
Curated by David Lewis
17 May - 22 June 2013

Campoli / Presti is pleased to present a show of work by four artists. Four artists: Four elements. Four walls, too. But the exhibit emphasizes mainly two: Water and fire. Water first--then fire. Not to the exclusion of earth or air, ever (how would that even be possible?) but the final fantasy here is the ringing sea. The idea being to associate the technologies of writing, and with them all the related technologies of painting, with water and watery transformation; then to add to this not only the memory of two inscriptions on two Anglophone tombs but also the image (the flicker of an icon) of a curtain of flames rising above the waves. It's suave mari magno versus et in arcadia ego, all over again.
"This Grave / contains all that was Mortal / of a / Young English Poet / Who / on his Death Bed, in the Bitterness of his Heart / at the Malicious Power of his Enemies / Desired / these Words to be / engraven on his Tomb Stone: / Here lies One / Whose Name was writ in Water. 24 February 1821"

***

Lucy Dodd was born in 1981 in Garden City, New York. Dodd received her BFA from Art Center College of Design in 2004 and her MFA from Bard College in 2011. Dodd has been featured in numerous group shows both nationally and internationally, including Blum & Poe, Los Angeles; Meyer Kainer, Vienna; and Balice Hertling & Lewis, New York. Dodd had her first solo show at ProChoice in Vienna in 2010, and, together with musician Sergei Tcherepnin, she was part of Performa 11 in New York in 2011.

Based in Berlin and New York, Jutta Koether is also a professor at the Hochschule für bildende Künste Hamburg. As a musician, she has worked with artists such as Tony Conrad, John Miller, Tom Verlaine, Kim Gordon and the late Steven Parrino (as Electrophilia). Recent exhibitions include the Whitney Biennial and Sao Paulo Biennial, both 2012, and solo exhibitions at the Moderna Museet, Stockholm (2011), and the Van Abbemuseum, Eindhoven (2009). Her work was recently included in the Tate Modern exhibition A Bigger Splash: Painting after Performance. Her solo exhibition Seasons and Sacraments is currently on view at Arnolfini Bristol, after being exhibited at DCA, Dundee.

Nora Schultz recently had solo exhibitions at Portikus, Frankfurt (2012); Bloomberg Space, London (2011); Fondazione Giuliani, Rome (2010) and Koelnischer Kunstverein, Cologne (2009). Past group exhibitions include Version Control at Arnolfini, Bristol (2013), Ecstatic Alphabets/Heaps of Language at MoMA, New York (2012), That's The Way We Do It at Kunsthaus Bregenz (2011), Non-Solo Show, Non-Group Show at Kunsthalle Zurich (2009), Collatéral at Confort Moderne, Poitiers (2009) and Nora Schultz / Pernille Kapper Williams at Grazer Kunstverein (2009). Schultz' work will be included in the upcoming group exhibition I knOw yoU at the Irish Museum of Modern Art, Dublin.

Viola Yesiltac has exhibited works in solo and group exhibitions including Balice Hertling and Lewis, Catherine Bastide Gallery, Brussels; Laing Art Gallery, Newcastle; Am Nuden Da, London; Kunstverein Langenhagen, Bundeskunstshalle, Bonn; Kunsthalle Recklinghausen, Museum Folkwang, Essen; Sommerakademie Centrum Paul Klee, Bern; Sculpture Center, New York; Artists Space, New York, P.S.1.Contemporary Art Center, New York; Front Desk Apperatus, New York; Museum of Modern and Contemporary Art, Geneva; Galleria Civica di Arte Contemporanea, Trento; and Team 404 & John Armleder Museum of Modern Art, Shanghai.