The Pleasure of the Text
24 Apr - 24 May 2015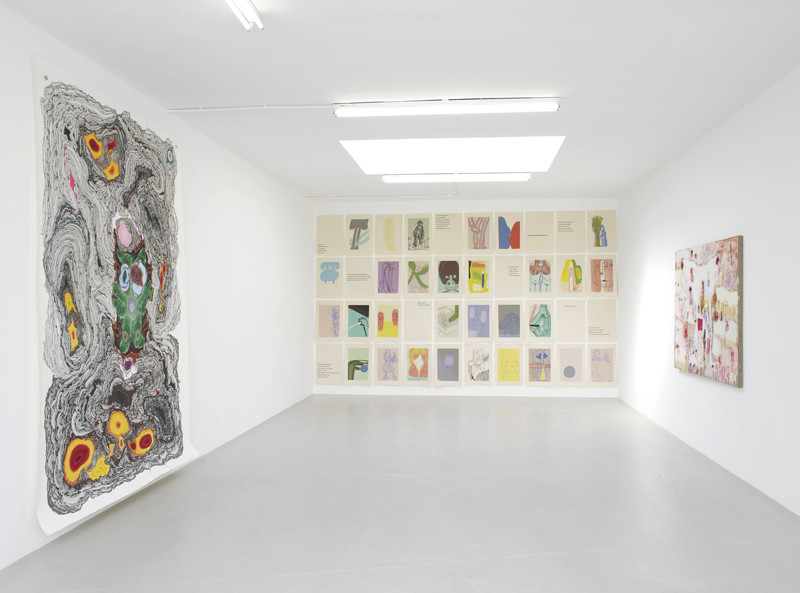 The Pleasure of the Text
Kerstin Brätsch, Lucy Dodd, Michaela Eichwald, Daiga Grantina, Rachel Harrison, Jutta Koether, Amy Sillman and Joan Snyder
Installation view: Kerstin Brätsch, Amy Sillman, Joan Snyder
24 April – 24 May 2015
Campoli Presti, London
THE PLEASURE OF THE TEXT
Kerstin Brätsch, Lucy Dodd, Michaela Eichwald, Daiga Grantina, Rachel Harrison, Jutta Koether, Amy Sillman, Joan Snyder
24 April – 24 May 2015

Campoli Presti is pleased to present the group exhibition The Pleasure of the Text.

The Pleasure of the Text focuses on the constant flow of negotiations between predefined historical notions of artistic practices and the personal way in which they are appropriated and read. The exhibition brings together artists that question the labeling of their works and re-elaborate them on their own terms, in an often unprejudiced and receptive manner. Taking an imprudent approach to their medium and its materiality, the artists engage in an active definition of their practice that emancipates itself from theoretical expectations.

The exhibition takes its title from Roland Barthes' 1973 book of the same name, in which the pleasure of reading exists in a derivative path, when our body follows its own ideas and destabilizes its historical, cultural and psychological assumptions. "Text means tissue, but whereas hitherto we have always taken this tissue as a product, a ready-made veil, behind which lies more or less hidden, meaning (truth), we are now emphasizing, in the tissue, the generative idea that the text is made, is worked out in a perpetual interweaving: lost in this tissue - this texture - the subject unmakes himself".

In this re-articulation of established categories, Kerstin Brätsch (Hamburg, 1979) names one of her series Corporate Abstractions to indicate the ambivalence of artistic autonomy and marketing production strategies. Lucy Dodd (New York, 1982), uses organic and unconventional pigment and materials to create paintings that refer to an ongoing investigation into a realm of ritual and mythology. Michaela Eichwald (Cologne, 1967) subverts the historical legacy in her paintings with physically engaged autobiographical traces. Daiga Grantina (Riga, 1985) situates her works in a system of semiotics, where one can think about how words come into contact with materiality, in a general interrogation of the definition of figuration. Rachel Harrison (1966, New York) develops an eclectic sculptural language that brings together the seemingly divergent categories of minimalism and pop. Jutta Koether (Cologne, 1958) re-appropriates classical works made by male artists and questions painting's notions of quality by playing with the formal implications of 'bad painting'. Amy Sillman's (Chicago, 1956) open-ended investigations, by the form of collage, drawings, paintings, or animations disrespect the binary between abstraction and figuration. Joan Snyder (New York, 1940) detaches the use of the grid from minimalist theories and embraces narrative in abstraction.