Evelyne Axell
03 Oct - 19 Dec 2009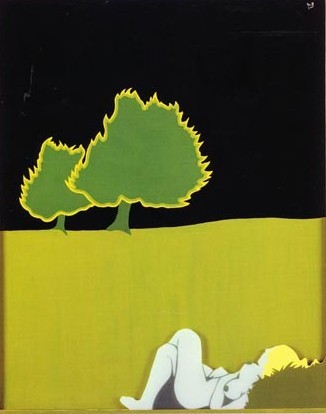 © Evelyne Axell
Paysage (Landscape), 1971
Enamel on plexi glass, wood fibreboard
160 x 128 cm
Signed and dated on upper right corner: Axell 71
EVELYNE AXELL
"Axell's Paradise"
Last works (1971-72) before she vanished

October 3 - December 19 2009

Belgium Pop artist Evelyne Axell (1935-72) had started her career as an acclaimed theater and film actress in Paris and Brussels. In 1963 she was the female lead in "Le Crocodile en peluche", directed by her husband, the film maker Jean Antoine. The film plotted a daring subject for the time: the problems of a couple in which one partner is white and the other black. Inspired by Jean Antoine's close work with international artists of the late 50s and 60s, Axell decided to give up her acting career and to become a painter. She approached René Magritte, a friend of the family, to tutor her. Magritte - unusual for his reclusive manners - agrees.

In 1964 Jean Antoine directs three ground breaking art documentaries on the rising styles of Pop Art and New Realism: "Dieu est-il Pop?" on the London scene, "L'Aventure de L'Object" (in Paris with Pierre Restany) and "L'Ecole de New York" (including women artists Marisol and Lee Bontecou).
Axell accompanies him to the filming in London, where she meets among the British Pop artists Pauline Boty. In the same year Axell travels to Prague, Vienna and Cracow. She loves Poland and becomes friend with sculptor Alina Szapocznikow who immigrated to Paris in 1963/64. Both women artists exchanged closely with Pierre Restany, the influential critic and inventor of Nouveau Realisme, who promoted their work profoundly.

Highly inspired by the new Pop Art sensibilities she witnessed in London, New York and Paris, Axell started to paint first in oil, developing a repertoire of erotically provocative motifs from a unique – one could say today proto-feminist – perspective. We see this central interest formulated from the very first painting on, and Axell brought it to genuine unfolding in the "Erotomobiles" in 1966. By this time the artist had shortened her name to the gender-neutral "Axell".
Soon she developed her groundbreaking signature technique using new plastic materials like plexi from which she cut the silhouettes of her voluptuous females and self-conscious heroines absorbed in (homo)erotic poses and activities. She enameled these contoured sheets - often painted recto verso - and mounted them on background panels to the effect that the relief-like surfaces of the figures gain a milky, dreamlike quality. Axell's works have the immediacy of Pop Art with their bright joyous colors, surface concentrated qualities and mediated sexual imagery while they transcend the very same style milieu. She filters Pop Art through a tender, visionary, radically contemporary form of surrealism, - creating a genuinely new dimension of artistic stylization which still today looks unparalleled.
The women in Axell's world – sexually evocative and self contained, their bodies composed to ornamental beauty - become icons of the liberation of the late 60s. Although she exploits central motifs of Pop Art iconography particularly in her early oil paintings, female sexuality in Axell's work fantastically escapes the realm of mass media objectification, one of the main targets of her male Pop Art contemporaries. The female nude appears in their works mostly as 'pin ups' appropriated from media and advertising, images of manufactured desire which become in the majority of Pop Art articulation anonymous signifiers of consumer culture. Among the nude female portraits of the circle "The Opalines" - with a wink to Ingres – Axell painted next to "La Tchèque" or "L'Italienne" the gorgeous "Portrait de Yaël Dayan", the novelist and daughter of the Israeli politician Moshe Dayan. Axell who met Yaël Dayan in Paris had a great admiration for the beautiful woman, writer and activist, - the painting being a document of highly conscious female idolatry.

In 1969 Pierre Restany declares Axell's work iconic for the "sexual revolution in art". The artist's tableaux speak a new confident, monumental language of eroticism with the potential to please women and men alike and to open new exclusive spheres for female desire, - as she lived her own life free, permissive and adventurous, far out for women artist of the time.

With the late series of works from 1971-72 shortly before her untimely death, Axell reaches a pivotal stage of her work. She realizes the 'paradise' circle situating her solitary females in a new setting, - her fantasy of a utopian landscape: close jungle landscapes with toxic vegetation, idyllic waterfalls and exotic animals, an "Eden ripped apart by shock waves from the world of men". At the same time we find here an elegiac vision of nature untouched by environmental destruction becoming a hidden realm for the free enjoyment of female desire. In "L'Herbe Folle" (1972) we see a woman taking a sunbath, her glasses (Axell's signature round fashionable sun glasses and therefore likely a self portrait) dropped beside her. She seems to rest peacefully while the tropical forest framing her body becomes an all consuming protecting and threatening setting. Shortly after Axell dies in a car crash in Belgium.

BROADWAY 1602 presents for the first time in the US a solo show by this outstanding woman artist. The late paradise circle marks the height of Axell's artistic achievements.