1ST MERCOSUL BIENNIAL 1997
02 Oct - 20 Nov 1997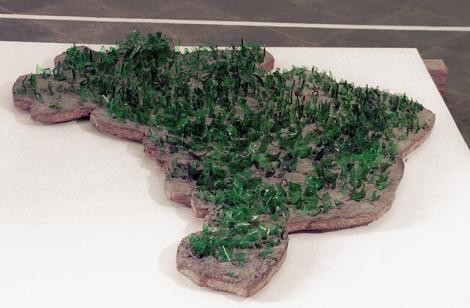 Ivens Machado (Brasil) - Mapa Mudo, 1979 - Vertente Cartográfica - Usina do Gasômetro - Coleção Gilberto Chateaubriand

1ST MERCOSUL BIENNIAL 1997
2 October – 20 November 1997

General curator: Frederico Morais

Artists:
Abraham Palatnik, Adriana Varejão, Alberto Greco, Alejandro Otero, Alfredo Hlito, Alfredo Jaar, Alfredo Sosa, Alícia Villareal, Alirio Rodríguez, Aloísio Magalhães, Aluísio Carvão, Amílcar De Castro, Andrea Ostero, Anna Bella Geiger, Antonio Berni, Antonio Dias, Antônio Henrique Amaral, Antonio Lazo, Antonio Llorens, Antônio Manuel, Antonio Moya, Antonio Seguí, Arturo Duclos, Ascânio Mmm, Asdrúbal Colmenárez, Augusto Torres, Barrio, Bernardo Krasniansky, Carlo Spatuzza, Carlos Altamiro, Carlos Capelan, Carlos Colombino, Carlos Contramaestre, Carlos Cruz-diez, Carlos Fajardo, Carlos Hernández Guerra, Carlos Serpa, Carlos Vergara, Carmelo Arden Quin, César Paternosto, Daniel García, édgar Arandia, Edgar Moreno, Eduardo Cardozo, Eduardo Kac, Efrain Almeida, Eliane Prolik, Enio Iommi, Enrique Careaga, Erika Ewel, Ernesto Deira, Ernesto Zalés, Ester Grinspum, Fátima Martini, Felipe Mujica, Félix Bressan, Félix Toranzos, Fernando Limberger, Fernando Lucchesi (e Marcos Coelho Benjamin), Fernando Peiramo, Florencia Flanagan, Francine Secretan, Francisco Hung, Francisco Matto, Francisco Salazar, Francisco Stockinger, Franz Weissmann, Gastón Ugalde, Gerardo Goldwasser, Gerd Leufert, Gilberto Vançan, Gisela Martins Waetge, Gonzalo Díaz, Gonzalo Fonseca, Gonzalo Mezza, Gracias Barrios, Graciela Sacco, Guillermo Kuitca, Guiomar Mesa, Gustavo Benitez, Gyula Kosice, Harry Abend, Hector Fuenmayor, Hélio Oiticica, Herman Dompé, Horacio Torres, Hugo De Marziani, Jacobo Borges, Jacques Bedel, Javier Bassi, Javier Telles, Jesús Rafael Soto, João Câmara Filho, Joaquin Torres García, Jorge Barrão, Jorge De La Vega, Jorge Francisco Soto, Jorge Pizzani, José Antonio Dávila, José Balmes, José Cláudio Da Silva, José Damasceno, Jose Gabriel Fernández, José Gamarra, José Gurvich, José Hernández-diez, José Luis López Reus, Juan Domingo Davila, Juan Melé, Juan Nascimento, Judith Lauand, Julio Alpuy, Julio Le Parc, Julio Pacheco Rivas, Julio Pérez Sanz, Karina Yaluk, Keila Alaver, Leandro Erlich, Lia Menna Barreto, Lucio Fontana, Luis Camnitzer, Luis Felipe Noé, Luis Fernando Benedit, Luis Guevara Moreno, Luis Lindner, Luisa Richter, Luiz Sacilotto, Lygia Clark, Magdalena Fernández, Manuel Pailós, Manuel Quintana Castillo, Marcel Florís, Marcelo Bonevardi, Marcos Benítez, Marcos Chaves, Marcos Coelho Benjamin (e Fernando Lucchesi), Margot Römer, Maria Leontina, Mário Pedrosa, Mario Sagradini, Mario Soro, Marisol Escobar, Marité Zaldívar, Martín Verges Rilla, Mateo Manaure, Mercedes Pardo, Meyer Vaisman, Miguel ángel Ríos, Miguel Von Dangel, Milton Becerra, Mónica Bengoa, Mónica Girón, Mónica González, Nedo M.f., Nelson Garrido, Nelson Ramos, Nicola Costantino, Nicolás Uriburu, Niura Machado Bellavinha, Noemí Escandell, Nury Gonzales, Omar Carreno, Oscar Bony, Osvaldo Salerno, Pablo Conde, Pablo Siquier, Pablo Suárez, Pancho Quilici, Patrício Farias, Paula Rojas, Pedro Terán, Rafael Barrios, Ramón Vergara-grez, Raul Lozza, Régulo Peréz, Ricardo Benaim, Ricardo Migliorisi, Rimer Cardillo, Roberto Farriol, Roberto Matta, Roberto Valcárcel, Rómulo Macció, Rosa Velasco, Rosana Palazyan, Rubens Gerchman, Sammy Cucher, Sérgio Camargo, Sergio Rangel Penzo, Sigfredo Chacón, Siron Franco, Sol Mateo, Sydia Reyes, Ted Carrasco, Tomás Clusellas, Tomás Maldonado, Túlio Sagastizábal, Victor Grippo, Víctor Hugo Iraz ́bal, Víctor Valera, Waldemar Cordeiro, Waltercio Caldas, Willys De Castro, Xul Solar, Yenniferth Becerra

The 1st Mercosul Biennial took place in 1997 and is considered "the most robust and rigorous review of the region's art" by the Uruguayan critic Alberto Torres. One of the main concerns of the first edition was to have a clearly defined curatorial concept, which sought to present the biggest exhibition of Latin American art in Brazil. The show was confined to the countries of Mercosul - Argentina, Bolivia, Brazil, Chile, Paraguay and Uruguay, with Venezuela as guest country, but also provided an examination of the historical development of the art of the continent. Around 800 works by 200 artists occupied twelve exhibition spaces grouped into three approaches - "Constructive - Art and its structures"," Political - Art and its context", and "Cartographic - Territory and history", with two segments which brought together works by young artists and a selection of works from public and private collections in Brazil. This Biennial honoured two individuals: the Argentinean painter and linguist Xul Solar, and the Brazilian art critic Mário Pedrosa.

Two international seminars were attended by around 60 art critics and historians from Brazil and abroad during the exhibition period, discussing Latin American utopias and northern-hemisphere views of Latin American Art.

Works by thirteen artists were donated to the city and eleven artists were invited to make temporary interventions.

If the political nature of Latin American art - having undergone 30 years of military dictatorship - brings up works that have acquired extraordinary significance after the continent's re-democratisation, the 1st Mercosul Biennial shows that in addition to its political content Latin American art is also conceptual and constructive.

Source: Critical Thinking, by Frederico Morais. p. 181 to 188.