Sergej Jensen
18 Mar - 17 Jun 2013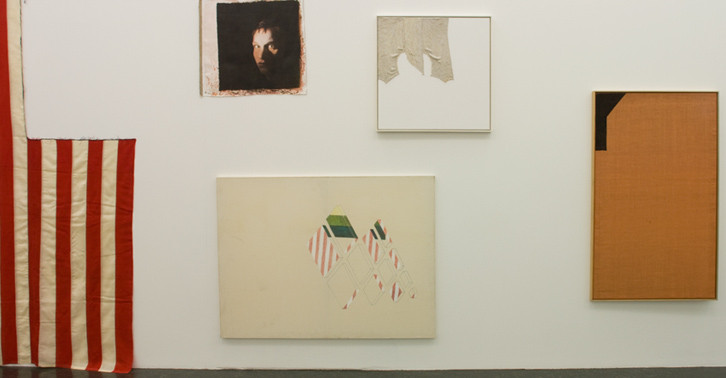 Sergej Jensen, Ausstellungsansicht Bergen Kunsthall, 2008, Courtesy Bergen Kunsthall, Foto: Thor Brødreskift
SERGEJ JENSEN
Fred Thieler-Prize For Painting 2013
18 March – 17 June 2013

The Fred Thieler Prize for 2013 goes to Sergej Jensen. The artist, born in Maglegaard (Denmark) in 1973, receives the award for his innovative use of basic resources.
Apart from conventional materials like linen and coarse cotton, Jensen paints on jute sacks and coloured fabric, which generate a distinctive flavour of their own. Traces of wear and even damage acquire as much importance as the painterly act. But Jensen is also keen to apply painting to new fields, as we can see from his home-made fan belts, some of them in idiosyncratic forms. This desire to transgress the boundaries of genre has also led the artist to work with the media of drawing, performance, installation and music.

The jury consists of Valerie Favre, artist, Katharina Grosse, artist, Udo Kittelmann, Director of the Nationalgalerie in Berlin, Thomas Köhler, Director of the Berlinische Galerie, and Gerwald Rockenschaub, artist. In granting this award, they paid tribute to "a young artist who represents a painterly minimalism and a concentration on the essential characteristics of the painting medium. Sergej Jensen's technique places him in the tradition of minimalist art, but his exploration of this tendency does not take place on the level of themes. It is expressed, rather, in a particularly individual response to the painter's raw material: the canvas."

Since 1992 the prize worth €10,000 has been awarded every year (since 2007 every two years) on 17 March, Fred Thieler's birthday. The old master of informality (1916 - 1999) dedicated the award to "outstanding painters whose artistic development is not yet complete and who have earned public recognition". The prize is combined with an exhibition at the Berlinische Galerie and publication of the laudation in a commemorative volume.

Prize-winners from 1992 to 2011: Eugen Schönebeck, Peter Bömmels, Lothar Böhme, Andreas Brandt, Reinhard Pods, Jan Kotík †, K. H. Hödicke, Walter Libuda, A K Dolven, Peter Herrmann, Marwan, Katharina Grosse, Cornelia Schleime, Günter Umberg, Bernd Koberling, Gerwald Rockenschaub, Pia Fries, Bernard Frize.