K. H. Hödicke
22 Feb - 27 May 2013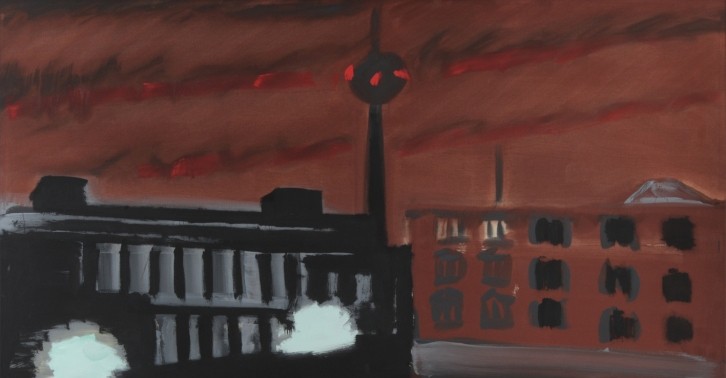 K. H. Hödicke
Kunstgewerbemuseum (Stadtlandschaft), Ausschnitt, 1976
© VG Bild-Kunst, Bonn 2012, Foto: Kai-Annett Becker, Sammlung Berlinische Galerie, Berlin
K. H. HÖDICKE
Painting, Sculpture, Film
22 February – 27 May 2013

For more than half a century, the work of K. H. Hödicke has been firmly associated with Berlin. Born in Nuremberg in 1938, the artist later made his home in this city, where he began producing his versatile, multi-genre œuvre in 1957. The Berlinische Galerie holds a large and representative cross-section of his paintings, sculptures, objects and prints. These provide the basis for the first all-round retrospective to be devoted to the artist in Berlin for twenty years. They will be complemented by loans of other major works.
With his openness to so many media, from new forms of painting and sculpture to objects and film, K. H. Hödicke has influenced countless young artists and made an enduring mark on the Berlin art scene. His creativity is governed by his very own cryptic sense of humour and an astonishing diversity which is never gratuitous. Inspired by the spontaneity and individuality of the informal, Hödicke has developed a personal form of art which manages both to capture contemporary moods like a seismograph and render historical details with precision. The Berlinische Galerie will show a selection of major groups of his work, focusing on the 1960s and 1970s.
For Hödicke "a picture is just a battlefield for handling colour". He attaches pivotal importance to the materiality of colour as a quality of the image. Tarred and feathered images reinforce this impression and his conceptual approach. Equally, transparent materials like glass can be both theme and substrate in Hödicke's work: his famous "Passagen" – urban situations reflected in shop windows – are a case in point. Finally, by overstretching and twisting his canvas, the painter drives the potential of his medium to the limits.
Movement is a key feature, appearing in his paintings through fuzzy dynamic structures and segueing into films and objects. "Kalter Fluss", a suspended tar barrel from which bitumen takes months to pour and collect on the floor, is a sculpture moving at an infinitely slow pace. Its material properties are diametrically opposed to those of the glass objects. Hödicke even turns bits and pieces like bricks, postcards, bones, marbles, torches, bottle openers and matchboxes into artist's materials, forging them together into little objects, poetic or witty, that acquire new meanings from unusual combinations.
Above all, we note a great curiosity and a desire to explore the urban environment of Berlin, the big city full of stimuli that challenge the artist. K. H. Hödicke, who studied under Fred Thieler at the Hochschule der Künste (HdK), co-founded Großgorschen 35 in 1964 as a self-help gallery for artists. In 1966/67 he spent a year in New York, an experience that was to have a lasting impact on his experimental films, and in 1968 he was awarded a bursary at the Villa Massimo in Rome. From 1974 to 2006 he followed in the footsteps of his former mentor Thieler, becoming a teacher at HdK in his own right.
Exhibition and catalogue with the kind support of the Förderverein der Berlinischen Galerie e.V.