5TH AUCKLAND TRIENNIAL 2013
10 May - 11 Aug 2013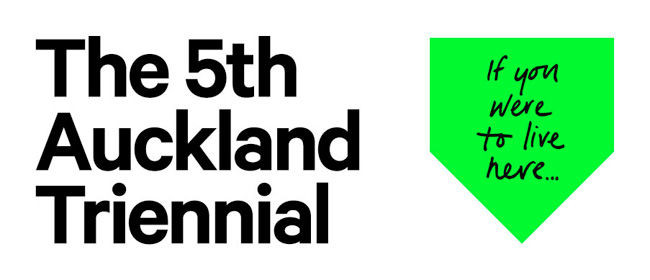 5TH AUCKLAND TRIENNIAL 2013
If you were to live here...
10 May - 11 August 2013

Curator: Hou Hanru

Artists:
Abraham Cruzvillegas, Allan Sekula, Allora & Calzadilla, Angelica Mesiti, Anri Sala, Atelier Bow Wow, Bruno Serralongue, Cinthia Marcelle, Claire Fontaine, Claire Healy and Sean Cordeiro, Do Ho Suh, Emory Douglas, Ho Tzu Nyen, Janet Lilo, Keg de Souza, Local Time, Luke Willis Thompson, Maddie Leach, Makeshift, Michael Lin, mounir fatmi, Noël Burch, Ou Ning, Peter Robinson, Rigo 23, Ryoji Ikeda, Saffronn Te Ratana, Ngataiharuru Taepa and Hemi Macgregor, Shahzia Sikander, Studio Mumbai (Bijoy Jain), Tahi Moore, Teddy Cruz, Wayne Youle, Yangjiang Group, Yto Barrada, Zhou Tao,

The 5th Auckland Triennial runs from the 10th of May til the 11th of August 2013 at Auckland Art Gallery and eight additional sites, extending the Triennial's reach across Auckland.
Led by renowned curator Hou Hanru, If you were to live here... includes work by more than 30 New Zealand and international artists, collectives and architects.
Previously curator of major biennials including Lyon, Istanbul, and Guangzhou, Hou has invited artists to respond to the diverse cultural, social, architectural and urban characteristics of Auckland. 'A triennial,' he says, 'is a space for producing new aesthetic forms and social spaces.
It is not only an occasion to see art, but an interaction between artists, people and the city to envisage possible futures.'

A triennial is not simply an exhibition, but a multidisciplinary and performative event to engage global creators with real life where it takes place.
The title of the 5th Auckland Triennial, If you were to live here... is a trigger or starting point which aims to provoke and promote discussion about how contemporary art influences urban transformation and creates active, powerful, accidental opportunities for interaction between artists, visitors and Aucklanders.
Central to curator Hou Hanru's project is the question of locale, or the idea of 'here'. An ever-moving and evolving concept, to 'live here' does not simply mean to dwell here, but to play a role in the reinvention of an ever-changing 'here'.
It is arguable that the myth of New Zealand as a distant and innocent land of promise is no longer sustainable in the age of global circulation of capital, ideas and people. The formation of a new nation and a contemporary, multi-cultural populace results from the co-existence in New Zealand of Māori and colonising Europeans, and later new immigrants from Pacific Island neighbours, Southeast Asia and further afield.
Focusing on the dynamic relationship between art, architecture and social change, the Triennial will inhabit the city of Auckland through collaboration with various sites and institutions to create projects in response to the specific context of Auckland and New Zealand today.
If you were to live here... prompts us to not only consider private space, but to reflect on the public sphere. Expanding opportunities for individuals to interact, share and exchange ideas and ideals gives rise to a locality relevant to our time that is built and sustained by creative exchanges, such as those fostered during the Triennial.
An open laboratory plays the role of a think tank or brain of collective intelligence, becoming a platform for public debate and forming a core element beyond the exhibition. To live here is to live with others to make a new 'here'.
Inviting artists and contributors to imagine and answer the deceptively complex question, 'If you were to live here...', the 5th Auckland Triennial promotes debate about a basic but often ignored issue: the vocation of artistic production today in a world oscillating between crisis and opportunity. This will eventually contribute to revitalise urban life itself.

Hou Hanru
Curator, 5th Auckland Triennial

Born in 1963 in Guangzhou, China, Hou graduated from Central Academy of Fine Arts, Beijing in 1985 (BA) and 1988 (MA). Formally a critic and curator based in Paris, he was recently the Director of Exhibitions & Public Programmes and Chair of Exhibition Studies & Museology at the San Francisco Art Institute from 2006-12.
Hou is a sought-after advisor, international juror and member of curatorial committees to art museums around the world, including the Guggenheim Museum and Tate Modern. He is an advisor at the Rijksakademie van Beeldende Kunsten in Amsterdam; visiting professor at Hoger Instituut voor Schone Kunsten, Antwerp/Ghent; a member of the advisory committee of De Appel Foundation, Amsterdam; and a member of Global Advisory Committee of Walker Arts Centre, Minneapolis. In addition, he is the French Correspondent of Flash Art International and has contributed to and guest edited Urban China, Yishu and ArtAsiaPacific.
Hou Hanru's acclaimed biennials, triennials and exhibitions include: The Spectacle of the Everyday, Biennale de Lyon (2009); Too Early for Vacation, EV + A 2008, Limerick (2008); Not Only Possible, But Also Necessary – Optimism in The Age of Global Wars, 10th Istanbul Biennial (2007); Everyday Miracle, Four Woman Artists in the Chinese Pavilion (Shen Yuan, Yin Xiuzhen, Kan Xuan, Cao Fei), Venice Biennale (2007); Beyond, 2nd Guangzhou Triennale, Guangzhou, 2004–6; Z.O.U. – Zone Of Urgency, Venice Biennale, (2003); 4th Gwangju Biennale (2002), Gwangju; Shanghai Spirit, Shanghai Biennale (2000), Shanghai Art Museum, Shanghai; The French Pavilion, Venice Biennale (with Huang Yong Ping) (1999).