Kratos — About (Il)Legitimate(D) Power
27 May - 26 Jun 2010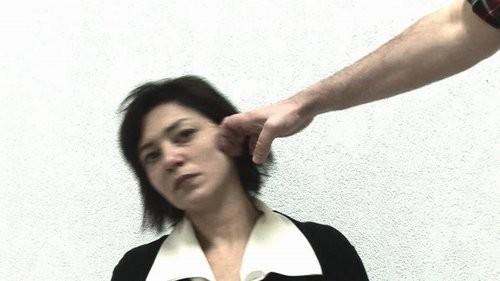 © Maja Bajević
How do you want to be governed?
Maja Bajević, 2009, single channel video 10:38, Color sound
KRATOS — ABOUT (IL)LEGITIMATE(D) POWER

curated by Raphael Gygax

Maja Bajević, Maria Eichhorn, Teresa Margolles, Artur Żmijewski, and Gianni Motti

May 27th – June 26th 2010

Team is pleased to present a group exhibition organized by the Zürich-based curator Raphael Gygax. KRATOS — ABOUT (IL)LEGITIMATE(D) POWER will run from the 27th of May through the 26th of June 2010. The exhibition will include works in a variety of mediums by five artists: Maja Bajević, Maria Eichhorn, Teresa Margolles, Gianni Motti and Artur Żmijewski. Team Gallery is located at 83 Grand Street, cross streets Wooster and Greene, on the ground floor.

This exhibition examines aspects of power and how they function within a broad social field. The selected artists all question the distribution, manifestation, and appropriation of power in so-called democratic systems, focusing on self-determination and artistic freedom. The work is often born from individual experience and activities that initially appear to be removed from the trajectories of cultural production and the art market.

Bosnian-French artist Maja Bajević (Bosnia-Herzegovina, b. 1967) presents a video entitled How do you want to be governed? In the video, Bajević frames a tense, yet unemotional female subject, while a male hand enters the frame and engages with her physically. Although his body remains invisible, his voice can be heard, asking the question "How do you want to be governed," over and over. The woman's face is alternately caressed and nudged by the hand, eliciting an anxiety over the threat of physical violence. The viewer is drawn into a psychological game in which the anticipation of violence initiates a discourse surrounding the abuse of power over the individual.

Maria Eichhorn (Germany, b. 1962) presents a series entitled Prohibited Imports, consisting of a re-photographed Robert Mapplethorpe catalogue after images of male genitalia were sanded away at a Japanese customs facility, where the book was seized as Eichhorn attempted to import it into that country. The photographs simultaneously obscure and heighten our concentration on what is no longer pictured. The performative intervention that Eichhorn facilitates maps out issues of censorship as it pertains to sexuality and freedom of expression, foregrounding the imposed moral codes of the Japanese officials. In this way, Mapplethorpe's original project is intensified through the lens of a more contemporary socio-political endeavor.

As a volunteer at a Mexico City morgue, and a scholar of forensic medicine, Teresa Margolles (Mexico, b. 1963) mines corpses to critique the social injustice that exists even in death. Having witnessed the disappearance of the bodies of the underprivileged, and mass cremations of unidentified persons, Margolles began to create artworks that implicate this reality as symptomatic of a misguided value system. In this exhibition, Margolles expands upon these concerns with a selection of baroque jewelry, handmade from shattered glass extracted from the anonymous victims of drug related crimes, shot to death in their cars. Margolles will also present a photograph of the U.S. Pavilion at last year's Venice Biennale from whose façade she had hung blood stained tarps. The fabrics are from an ongoing series in which the artist soaks up freshly spilled blood at drug-related murder scenes, afterwards installing them as flags or "paintings" in various locations.

Gianni Motti (Italy, b. 1958) uses ordinary events and the culture of spectacle in order to highlight human absurdity and frailty. In The Messenger, Motti turns his lens on Raël and Brigitte Boisselier, founders of the Raëlian Church and the Cloniad sect, religions of individualists who believe in extra terrestrials and clones, respectively. Motti's staged events are often experienced through narrative and second-hand photography taken by on-lookers. His actions oscillate between rational and irrational, irony and provocation, rumor and misunderstanding.

Artur Żmijewski (Polish, b. 1966) creates films in a documentary style, often with ethical challenges and unpredictable outcomes, appearing as tests or improvisations with allegories of violence, victimization, power structures, and democratic/capitalist systems. For this exhibition the artist presents two single channel videos side by side in which a day in the life of two subjects, Yolanda in Mexico City, and Patricia in Berlin, are edited down to two 15 minute visual diaries — they work, sleep, and in between take their children to school, wash them, and clean their apartments. Shot in a reality television style, although not adhering to it's familiar template of scrutinizing the rich and beautiful, or the more dramatically disenfranchised, Żmijewski's films offer a glimpse into the lives of "everyday" citizens of democracy.