Urushi Lacquer And Design. East Meets West
12 Dec 2012 - 24 Feb 2013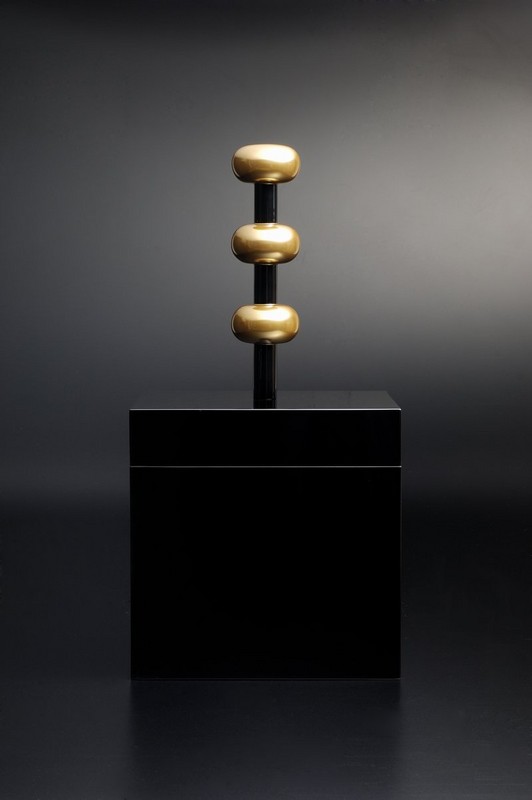 © Ettore Sottsass
Box 'Kiritsubo', design 2002
manufactured 2007 for MaruTomi, Japan. Urushi lacquer, black and gold (roiro finish)
Photo: Kinoshita Yasuhiko
URUSHI LACQUER AND DESIGN. EAST MEETS WEST
Curated by Miki Shimokawa.
Cooperation partners: Real Japan, Sabae, Präfektur Fukui, Japan
12 December 2012 - 24 February 2013

In the 1990s Italian architect and designer Ettore Sottsass (1917-2007), one of the greatest and most influential of the 20th century, encountered the ancient Japanese lacquer art urushi kogei. Several years of intellectual exchange and design in close collaboration with leading Japanese masters of this highly demanding technique, he designed vessels and objects that embody western (post-)Modernism, Far Eastern elements, Italian esprit and Japanese sophistication in equal measure.
This exciting course of development took Sottsass and his Japanese partner Marutomi from industrial design to unique handcrafted items, from mass-produced products in the characteristic red and black urushi style, to small series with natural urushi lacquer, to sculpture-like one-offs, the result of hundreds of individual layers of urushi to wood.
The exhibition will also showcase examples of urushi works by other western designers such as Dieter Rams and Fritz Frenkler. This exchange between East and West in their approach to design and the conceptual inspiration demonstrated in the resulting pieces - illustrated particularly well
by Ettore Sottsass' late urushi objects never before exhibited in a museum - represents an exploration of the roots of design and cultural transfer at its best.
An exhibition organized by Die Neue Sammlung - The International Design Museum Munich.